THE PERSONAL TRAINER CONNECTION!
Personal Trainers in Oklahoma

Personal Fitness Training and Dietitian Diet Programs
Michael Buzan

Edmond, Oklahoma 73013

Specialties
Strength Building
Body Building
Weight Loss
Body Sculpting
Functional Fitness
As a well educated personal trainer I understand that everyone is different. I start with a fitness evaluation to gain your fitness level, goals, and exercise start point. Based on this information I then decide what style of program is needed. Some need periodization training, and many need concurrent training. All my programs include elements of weight training, functional fitness and cardio but the amount of each is dictated by your specific goals.
More details about Edmond, Oklahoma Personal Trainer Michael Buzan

Private Training, Indoor Bootcamp, Real Results!
Ryan Dobbs

Edmond, Oklahoma 73003

Specialties
Strength Building
Weight Loss
Rehabilitation
Body Sculpting
Bootcamp
Over my past 10 years as a Personal Trainer I have trained over 400 clients and have surpassed 10,000 hours of training experience. In that time I have developed a system that shows amazing results fast and efficient all while having fun and learning how to develop a LIFESTYLE that can keep those results for a lifetime!
More details about Edmond, Oklahoma Personal Trainer Ryan Dobbs

Matthew Blair - Personal Training: I will make your goals mine!
Matthew Blair

Edmond, Oklahoma 73013

Specialties
Strength Building
Body Building
Weight Loss
Body Sculpting
In working with clients, I like to focus on my clients goals and pushing them towards those goals as hard as they are willing to be pushed. I concentrate on making the most out of each workout through precise form, which helps prevent sustaining injuries. I have experience in weight lifting for muscle strength, size and toning, as well as speed training, cardio training, and fat loss. Most of my clients are able to achieve their goals because I strive to see my clients strive. I try to bring out the work ethic in each of my clients and to encourage them to get that extra repetition that I know they have. My dad has always told me "If you stop a set early, you will never get that set back." I believe in revealing my clients full potential to them and encouraging them to achieve!
More details about Edmond, Oklahoma Personal Trainer Matthew Blair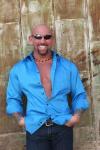 Professional Certified Trainer Ready To Help You
Robert Brody

Oklahoma City, Oklahoma 73106

Specialties
Strength Building
Body Building
Weight Loss
Rehabilitation
Body Sculpting
I am a certified strength and fitness personal trainer and certified group class instructor. Specializing in: •Dynamic progressive weight loss and fat burning circuit training. •Increase strength & endurance. •Body Building (Hypertrophy Training). •Helping clients build strong Core strength. •Sport specific training. •Working with clients of all age ranges. •Training clients with joint related health issues. •Wellness conditioning for those with arthritis as well as other joint, muscle and mobility limiting issues. •Personal Training In a non-judgmental atmosphere
More details about Oklahoma City, Oklahoma Personal Trainer Robert Brody

Helping you achieve your fitness goals
Gary Barnes

Oklahoma City, Oklahoma 73159

Specialties
Strength Building
Weight Loss
Rehabilitation
Yoga
Kick Boxing

Elite level personal training for every day people!
Joe Carson

Tulsa, Oklahoma 74137

Specialties
Strength Building
Body Building
Weight Loss
Rehabilitation
Kick Boxing

We Exceed your Expectations
Aaron Henson

Tulsa, Oklahoma 74133

Specialties
Strength Building
Body Building
Weight Loss
Rehabilitation
Aerobics
Body Sculpting
Aaron grew up in Okmulgee, OK owns both Fitness Together South Tulsa and Fitness Together Kingspointe Village. He has always been active and involved in multiple sports growing up, he played basketball collegiately at Carl Albert State College and Oklahoma Wesleyan University. He was worked with a wide client base from 12-84 years of age. Assisted clients with weight loss, muscle gain, injury rehab and much more! Training full time for the past 4 years he has conducted over 4,000 training sessions. He also is quick witted and ensures his clients have a laugh or two with their workouts.
More details about Tulsa, Oklahoma Personal Trainer Aaron Henson
Oklahoma Personal Trainers
The average person has 60,000 thoughts a day, and the majority of those thoughts are the same thoughts we had yesterday. Imagine the progress we could make in our lives if we broke the pattern of the same repeating thoughts that result in the same behaviors every day. We have trained our minds to believe that diet means deprivation and that exercise means torture. Having the dreaded "No pain, no gain" way of thinking when it comes to exercise will sabotage your health and fitness plans. An Oklahoma personal trainer will help you separate the fact from the fiction and put those negative excercise and fitness myths to rest!
Many people do not exercise because they cannot find the time to go to the gym or its boring doing pushups on an exercise mat in front of a mirror. Tulsa personal trainers will come to you on your schedule at a location that convenient to you. Your health and fitness routine does not have to be confined to the indoors. Personal trainers love to utilize the great outdoors by taking advantage of the miles of shoreline around the Tulsa area lakes and the many hiking and biking trails along the river parks system on the Arkansas River located in the heart of Tulsa.
Oklahoma City personal trainers will bust the myth that exercise is exhausting. Based on your own personal goals and physical assessment, a personal trainer will help you compose your own personal fitness plan that will incorporate a variety of exercises such as aerobic fitness, muscular fitness, strength training, flexibility exercises, and core stability. You will soon reap the energizing benefits of exercise on your body and your mind!
Many believe that they have to be in shape to workout. Personal trainers in Edmond will prove this myth to be just that. Whether you are starting at ground zero or you are in great physical shape, your personal fitness program will fit you like a glove. Your fitness training may include biking, swimming or jogging amongst the landscape of Edmond. These exercises are all aerobic activity that will strengthen your heart, and increase endurance. Flexibity exercises such as yoga and stretching improve balance and range of motion. Strength training like weight training or resistance training builds muscle and bone mass. Understanding how the different exercises benefit different parts of your body will increase your chances of health and fitness success. You will notice that no matter what shape you started in, you will start to see and feel the results of your fitness and excercise program. There is no doubt about it, when you look good, you feel good too!
Your decision to make yourself feel better by picking up the phone to call an Oklahoma personal trainer instead of picking up some cookies is a leap in the right direction. Don't let your goals of achieving optimum health and fitness become a myth. Get started today, at this moment and call your personal trainer today!