THE PERSONAL TRAINER CONNECTION!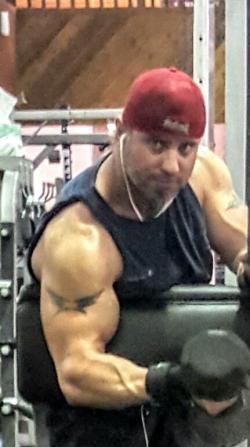 One on one and online personal trainer
Derrick Dickey -
(918) 325-8327
Miami, Oklahoma 74354
Trains both men and women.
contact trainer
Specialties
Strength Building
Body Building
Weight Loss
Personal Trainer Overview
I think the thing that makes me stand apart from other trainers is the reason behind why I named my website samsontraining. Samson was not only a man of incredible God given strength, he was a man with a will to match. I hope to be able to truly inspire people. Those who lack confidence and self esteem, those who through injury, tragedy or depression let their bodies get away from them, they need more than just someone to tell them what to eat and create a workout plan. They need someone who cares. They need someone who can help instill the will, drive, and confidence to be successful at achieving their goal. I am that man.
Training Philosophy
There are many different ways to construct a diet and weight training plan for a client or for yourself. I will tell you what I have found to be most effective for me personally and clients I have trained. Its a concept created by 4 time Mr. Natural Universe and former American Gladiator, Mike O'hearn. Its called Power Bodybuilding. Its trying to combine the asthetics of a bodybuilder with the strength of a powerlifter. Obviously a lot of clients may not want to look like a bodybuilder. That is fine. The training principles still apply even if you are just trying to lose some weight and get in shape. The concept is simple. After a warm up, go heavy as you can for few reps. Shock the nervous system and recruit the most amount of muscle fibers to work. Especially right now when they are fresh. In the second phase of the workout, drop the weight some and increase the reps. Its still heavy enough your rep range is 8-12. The goal is to push as much blood in the muscle you can to feed it and make it grow. In the third phase, go with light weight and high reps to get some cardio training and endurance with time under tension. You end up training for power, growth, and endurance in the same workout. Also of course you will have to be fluid in your methods. Some clients may not like this kind of training, or may have other goals in mind for your services. You can't be married to one method. Nutrition: whether you are cutting or gaining, you keep the protein high and drop out either fat or carbs. Both of them together equal stored body fat. The protein stays high on either diet to add in growth and repair while gaining, and to preserve muscle tissue while cutting. The body will give up muscle tissue over fat while dieting, a high protein diet will help prevent this. Cardio: usually done in a depleted state, 20-30 min after the weight training.
Education
MSSU, Health Promotion Major, American Red Cross Lifeguard, YMCA-CPT, NSCA-CPT
Bio
In high school I was a talented baseball player. I hurt my shoulder the first time at 15 and went to the doctor. Surgery was an option but he didn't feel good about surgery so young, so a weight training program to use the muscles to help take up the joint slack was prescribed. That didn't work much, and i was injured multiple times over the next 3 years. At 18 I had a shoulder reconstruction. It was bad enough he told my mom after surgery, "I should have done this when you guys came to me 3 years ago." I hadn't workout out much at that point. I went to a little high school with no training staff and very little workout equipment or training for the athletes. It was through the rehab process I realized how much I loved working out. I went to college to get a better education in it, and became a personal trainer, and a passion, an addiction, the course of the rest of my life had been set. To be able to prevent or rehabilitate people who have been in my position would make me feel like it was all worth it. But, just to be able to be a conductor that organizes a bunch of gibberish for someone into a beautiful melody they can play on their own, would make it all worth while as well.