THE PERSONAL TRAINER CONNECTION!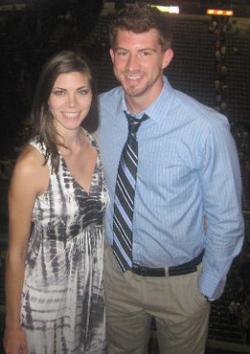 Matthew Blair - Personal Training: I will make your goals mine!
Matthew Blair -
(405) 203-8614
Edmond, Oklahoma 73013
Trains both men and women.
contact trainer
Specialties
Strength Building
Body Building
Weight Loss
Kick Boxing
Body Sculpting
Certifications
ISSA Personal Trainer Certification
Personal Trainer Overview
In working with clients, I like to focus on my clients goals and pushing them towards those goals as hard as they are willing to be pushed. I concentrate on making the most out of each workout through precise form, which helps prevent sustaining injuries. I have experience in weight lifting for muscle strength, size and toning, as well as speed training, cardio training, and fat loss. Most of my clients are able to achieve their goals because I strive to see my clients strive. I try to bring out the work ethic in each of my clients and to encourage them to get that extra repetition that I know they have. My dad has always told me "If you stop a set early, you will never get that set back." I believe in revealing my clients full potential to them and encouraging them to achieve!
Training Philosophy
Transforming your body and becoming fit is not just a 30 day diet or an occasional mild workout. Being in a good physical condition is a lifestyle change. To some this may sound extreme, but think about this: The body that you have is the only one that has been given to you, and it is vital that it is in working condition for the rest of your life. It is never to late to get in shape. All it takes is a bit of dedication, hard work, and self-discipline. Remember, nobody ever accomplished anything without first deciding to try.
Education
I am still in school at the University of Central Oklahoma where I am obtaining a degree in finance. I began school in pursuit of a degree in Chiropractic and I have taken classes in weight lifting, nutrition, healthy life skills, and have completed a thorough study of the Body for Life Challenge.
Bio
Hello! My name is Matthew Blair. I am a personal trainer, certified through the International Sports Sciences Association (ISSA). I have practically been raised in a gym, and just recently realized that is where I love to be! I also realized that I love to help others accomplish their goals. Upon these two discoveries, I asked myself, "Why not make a living out it?" So i did just that! I have made it my job to take others goals and desires, and make them mine...And I love it! I want to devote one-hundred percent of my attention to the time I have with each of clients. My number one goal in life is to bring glory to God, so I try to operate in a Godly manner. With this business philosophy I not only plan on creating a great training atmosphere, but life long friendships as well.