THE PERSONAL TRAINER CONNECTION!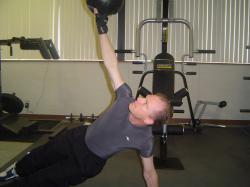 Personal Fitness Training and Dietitian Diet Programs
Michael Buzan -
405-503-2758
Edmond, Oklahoma 73013
Trains both men and women.
contact trainer
Specialties
Strength Building
Body Building
Weight Loss
Body Sculpting
Functional Fitness
Certifications
National Strength and Conditioning Association certified personal trainer (NSCA-CPT) CPR & AED and First Aid. UCO
Personal Trainer Overview
As a well educated personal trainer I understand that everyone is different. I start with a fitness evaluation to gain your fitness level, goals, and exercise start point. Based on this information I then decide what style of program is needed. Some need periodization training, and many need concurrent training. All my programs include elements of weight training, functional fitness and cardio but the amount of each is dictated by your specific goals.
Training Philosophy
Only true exercise science is administered by an educated (BS or above in exercise science) and certified professional. NO FADS just highly motivating fitness and nutrition programs.
Education
Michael Buzan, NSCA-CPT holds a bachelor of Science in exercise and fitness Management from the University of Central Oklahoma Stacy Buzan, RD/LD, MS holds and Advanced Masters Degree in Human Nutrition from the Eastern Michigan University
Bio
I was in my late 20's when I was injured in an auto accident that took ten months to overcome. At that time I decided to go back to college. I graduated at age 33 with my BS. I was half way through my Masters degree when my personal training got to big to do both. My wife was also working on her Masters degree. I decided to concentrate my efforts on personal training. I have been a trainer for 8 years now and I truly love my work.