THE PERSONAL TRAINER CONNECTION!
Personal Trainers in Miami, Oklahoma
Personal Trainers in Miami, Oklahoma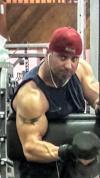 One on one and online personal trainer
Derrick Dickey

Miami, Oklahoma 74354

Specialties
Strength Building
Body Building
Weight Loss
I think the thing that makes me stand apart from other trainers is the reason behind why I named my website samsontraining. Samson was not only a man of incredible God given strength, he was a man with a will to match. I hope to be able to truly inspire people. Those who lack confidence and self esteem, those who through injury, tragedy or depression let their bodies get away from them, they need more than just someone to tell them what to eat and create a workout plan. They need someone who cares. They need someone who can help instill the will, drive, and confidence to be successful at achieving their goal. I am that man.
More details about Miami, Oklahoma Personal Trainer Derrick Dickey