THE PERSONAL TRAINER CONNECTION!
Personal Trainers in Wisconsin

No Limits Personal Training
Maggie Leverence

Lake Geneva, Wisconsin 53147

Specialties
Strength Building
Weight Loss
Rehabilitation
Aerobics
Kick Boxing
Body Sculpting
Golf Fitness
Personalized programs that fit you and you alone!
Joshua Hockett

Oregon, Wisconsin 53575

Specialties
Strength Building
Body Building
Weight Loss
Kick Boxing
MMA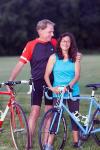 Fitness IS a lifestyle...and something to learn one day at a time. Change happens when you make it happen.
Michel Sorrentino-Poole

Racine, Wisconsin 53406

Specialties
Strength Building
Weight Loss
running, flexibilty, special pop
I am a functional trainer. I work in a field that is truly my life's passion. My emphasis is on one day at a time...one moment at a time...one change at a time every week... permanent change. For real change we have to ask ourselves the difficult questions...we have to look at where we are and come to terms with what is NOT working. Once we do that, it is then that we begin to plot a new and healthier path...it's a journey not a destination. I work from the inside out. I truly believe that in order to fix your outside one must examine ones life and create new healthy habits going forward. Getting older does not necessarily mean that we are all pre-destined for declining health. Go to my website. Read my story...see what my clients have to say.... Then send a note so we can begin the process of discovering what your needs are. (If you just have a question...that's OK too...we give FREE advice!!) It's never too late to get moving and on your way to permanent change! Be well! Michel CPT-ACE Cell: 708.403.4831 Phone: 262-884-6974 Email:runonheart2004@yahoo.com website: http://www.runonheartpersonaltraining.com
More details about Racine, Wisconsin Personal Trainer Michel Sorrentino-Poole
Brooke Campbell

River Falls, Wisconsin 54022

Specialties
Strength Building
Weight Loss
Yoga
Pilates
Aerobics
Kick Boxing

Fitness Focus
Cadie Larson

Tomahawk, Wisconsin 54487

Specialties
Strength Building
Body Building
Weight Loss
Aerobics
Kick Boxing
Body Sculpting
Fitness doesn't have to be scary! In consultation I will list the activities you like to do, or would like to try and I encorporate them into your workouts. I am also available 24 hours a day via email to answer questions, provide direction and be a support system for those who feel like they are alone in the fitness world.
More details about Tomahawk, Wisconsin Personal Trainer Cadie Larson
Wisconsin Personal Trainers
Remember when the carnival came to town when you were a kid. The haunted house always seemed ghostly vacant, and was the last ride I would think about going on alone, not even on a dare. Embarking upon the unknown is always scary alone. The fear we experience will often stop us from even putting one foot forward. Rather than be scared we stay comfortable just where we are at. We have been programmed to perceive exercise as a scary monster and have failed at our solo attempts to get physically fit and become healthy.
A Wisconsin personal trainer will be your accomplice in fighting off the workout monsters and encourage us to become familiar with the uncharted territory of fitness and exercise. Exercise reduces stress, focuses your mind, improves your health and raises your spirits, driving the spirits of your negative thoughts away. Your personal trainer will be your first line of defense against those nasty demons that tempt us to procrastinate or give up.
When we can actually see the results of our hard work it keeps us motivated to continue toward our health and fitness goals. Together you will strategize a personalized master plan that will result in your success. You will learn how to set achievable goals and realize the importance of consistency during your fitness and training program. A personal trainer will show you how to record your progress, and assess your fitness levels. Your training program may need to be modified to avoid fitness plateaus and maximize your progress.
One of the benefits of personal training is that it keeps your fitness program interesting. The location of where you may train is also versatile. You are not limited to a gym or the indoors. A personal trainer in Racine will introduce you to the endless workout settings. You can take your fitness program to Festival Park, along the banks of Root River, on the Loon Lake, down the slopes of Raging Buffalo Snowboard Park, amongst the rapids of Pike River, in the wilderness of Wilmot Mountain, or your personal trainer will come to you in the privacy of your own home, backyard or office.
There are also many options for the types of exercise and training that you can incorporate into your program. If you are trying to build stamina and strengthen your circulatory system then you would want to focus on aerobic exercise such as walking, jogging, bicycling or even dancing. If you are looking to improve your muscle tone, improve your physical appearance and performance and increase your body's ability to burn calories then a strength training program would be a primary focus. Madison is the perfect city to implement a balanced fitness program using a combination of the different styles of training.
Don't let your vision of fitness and health haunt you by letting it become a ghost of your past. You need to act quickly. Who you gonna call? Your personal trainer! Personal trainers are the genuine Ghost Busters!