THE PERSONAL TRAINER CONNECTION!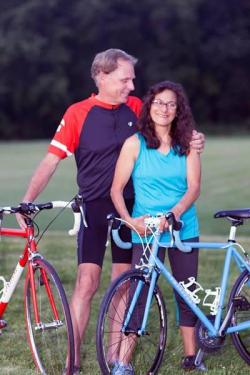 Specialties
Strength Building
Weight Loss
Rehabilitation
running, flexibility, cardio pro
Certifications
Current ACE CPT Current CPR training Sr/Jr Fit AAHF Cancer and the Older Adult AAHF
Personal Trainer Overview
I live and work in the Racine, Wisconsin area. Over the years my practice has evolved greatly. I work out of a small studio at 829 South Green Bay Road in Mount Pleasant, WI. This studio is PERFECT for one on one training. I book my sessions most often in 90 minute blocks so that I have more than enough time with each of my clients. I do not like for them to feel rushed or crowded. I believe that I am a value added trainer. I utilize a number of services in my practice for my clients as optional aspects within the training experience. These services are included within the training fee. I do offer multi-session discounts. Part of the work I do with my clients in addition to strength, flexibility, core, cardio, and nutrition is to work from the inside out to understand negative behaviors and then work to correct them and go on to a healthier lifestyle.
Training Philosophy
My philosophy: simply for each of you to become the best version of yourselves that you can be. Deciding to be healthy, and living in that lifestyle is a life choice and a process. When clients come to me they come with a lifetime's worth of experiences that shapes how they react and what they do. Our job in the partnership is to examine, deconstruct and RECONSTRUCT in order to create a new and healthier way of going through life.
Education
I've Trained for 14 years. Certifications I have held include AAFA, NASM and of course my current certifications below.
Bio
I am a woman who struggled most of her life with weight and body image issues. As a child of Italian descent I was raised traditionally in a family whose relatives were charter members of the "clean plate club." As you might imagine, this created in me from a very early time in my life a battle with food and exercise. As a youth my parents put me on many a diet. They were very verbal about my weight issue. This certainly affected me in many areas as a youth. As a teen in the 70's I became anorexic and was hospitalized for it. Back then little was understood about how to deal with it...or even really what it was. Doctors at the time decided that the cure was to teach people how to eat. As we now know, Dysfunctional eating was just the symptom and not the cause. over the years up to when I was about 38 years old I went up and down the scale. I had been a lifelong runner, but that didn't even help. At the age of 38 I woke up. I realized that there HAD to be a better way. That I was not going to go into my 40's with two young children to whom I had to be an example looking and feeling the way I did. So, what did I do? I worked out HARD for a solid year and did NOT see much result. I worked on every machine in the club.. I took all the classes and lost a total of 10 pounds. It was disheartening. Then one day I'd had enough. There was a personal trainer at the club and I sat down with him. We talked and talked and I listened, REALLY listened, because the switch had FINALLY gone on. I needed to change everything from the inside out. I had to look at my eating differently. I had to understand cardio and it's role and I had to change my relationship with food. I hired that trainer and took control and educated myself. I listened, absorbed and adapted everything he said to me. From that point on I was able to achieve steady change. It was because of this experience that I decided to become a personal trainer when my children went off to school. I wanted to make a positive difference in the lives of all the people that I could in the time that I have in this body, in this life. I wanted to teach what I have learned, and what I continue to learn, to those who truly desire to change. I have since gone on to run 12 marathons and an ultra and countless 5k and 10k races. One of my passions is to train folks for these events