THE PERSONAL TRAINER CONNECTION!
Personal Trainers in Racine, Wisconsin
Personal Trainers in Racine, Wisconsin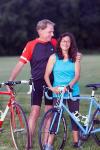 Train For Your Life!
Michele French

Racine, Wisconsin 53406

Specialties
Strength Building
Weight Loss
Rehabilitation
running, flexibility, cardio pro
I live and work in the Racine, Wisconsin area. Over the years my practice has evolved greatly. I work out of a small studio at 829 South Green Bay Road in Mount Pleasant, WI. This studio is PERFECT for one on one training. I book my sessions most often in 90 minute blocks so that I have more than enough time with each of my clients. I do not like for them to feel rushed or crowded. I believe that I am a value added trainer. I utilize a number of services in my practice for my clients as optional aspects within the training experience. These services are included within the training fee. I do offer multi-session discounts. Part of the work I do with my clients in addition to strength, flexibility, core, cardio, and nutrition is to work from the inside out to understand negative behaviors and then work to correct them and go on to a healthier lifestyle.
More details about Racine, Wisconsin Personal Trainer Michele French