THE PERSONAL TRAINER CONNECTION!
Personal Trainers in New Hampshire

IGNITE YOUR BODY
Becky Blais

Auburn, New Hampshire 03032

Specialties
Strength Building
Weight Loss
Rehabilitation
Yoga
Pilates
Aerobics
Body Sculpting
adaptive-functional fitness, bod
several yoga disciplines 800+ hrs adaptive fitness, Pilates, Barre, Interval training, Personal training, bootcamps, agility/plyometric training, metabolic training…. numerous signature classes to take your body and mind to a new level. Teacher training for yoga teachers/studios wanting to work with Combat Vets. Veteran owned and operated
More details about Auburn, New Hampshire Personal Trainer Becky Blais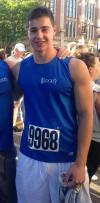 Personal Training
Sam Bousnakis

Londonderry, New Hampshire 03053

Specialties
Strength Building
Weight Loss
Rehabilitation
Hi I'm Sam I am a personal trainer from Londonderry, New Hampshire. My passion in life is fitness and helping people achieve their goals. Over just this past year I have helped clients lose 20, 40, even 60 pounds! A lot of personal trainers sell their programs and promise results. I work in reverse I show you the results, then we discuss our programs options. Before I tell you more about my programs let me tell you a little bit about me. I am certified through National Academy of Sports Medicine. Being a personal trainer is something I have always wanted to do and am more then grateful to call this my career. As of right now I currently work in both a studio and offer in-home sessions so we are sure to find something that works for you. My programs are goal orientated. During our course we will be setting goals throughout and meeting them in the best way possible. I currently specialize in fat loss especially in woman over the age of 35. I have worked with college athletes before and kids as young as 7. In my free time I am an avid weightlifter and I enjoy to running the 5ks often held in Manchester. When a new client is interested I know it can be an intimidating process for anyone. That is why I have a free phone consultation so we can get to know each other without any of the pressure of someone coming into your home for the first time. After that I have different specials I can discuss with you exclusively for my first time Craigslist Clients. To contact me send me an email at sbousnakis94@gmail.com or call anytime at 603-275-8073 I look forward to hearing from you.
More details about Londonderry, New Hampshire Personal Trainer Sam Bousnakis
A New Way to Get Fit
Heather Barisano

Nashua, New Hampshire 03060

Specialties
Strength Building
Weight Loss
Aerobics
Koko FitClub of Nashua is the first health club that uses technology to bring strength training, cardio exercise and nutrition planning together in one place, customized precisely to your body and goals. We call it Koko FitClub of Nashua Smartraining. It's fast, motivating and so effective…it's patented. No gym scene. No fad diets. Just amazing results.
More details about Nashua, New Hampshire Personal Trainer Heather Barisano

Women's kickstart fitness and nutritional program
Karlene Linxweiler

Portsmouth, New Hampshire 03801

Specialties
Strength Building
Weight Loss
Pilates
Aerobics
Kick Boxing
Body Sculpting
martial arts, track (running)
I have been a Group Fitness and Pilates Instructor for 5 years, with experience in teaching Abs, Bootcamp, Cardio Kickboxing, and Pilates classes. I am also trained in running track, boxing, kickboxing, and Brazilian Jiu Jitsu. As a result, I have been able to develop a workout program that is effective and time-saving to reach your fitness and health goals. I will gladly work with you at a nearby gym location or on-site at your home to give you a great workout. We can discuss your preferences, goals, and availability together to create the workout plan that fits YOUR needs
More details about Portsmouth, New Hampshire Personal Trainer Karlene Linxweiler

Training Women 40 and up!
Josephine Doroja

Portsmouth, New Hampshire 03801

Specialties
Strength Building
Body Building
Weight Loss
Yoga
Aerobics
Body Sculpting
Don't have enough time to go to the gym? Imagine the convenience of a Certified Personal Trainer coming to you! The answer is Jojo Fitness! Josephine, aka Jojo, founder of Jojo Fitness, specializes in In-Home Personal Training and Online Personal Training around your schedule. Don't make lack of time an excuse! Call TODAY at 603.502.7609 or email jojofitnesstraining@gmail.com to schedule your FREE Fitness Consultation. Would you like to train in person? I have access to five locations in the Seacoast Area! Check out this link: http://www.vanguardkeyclubs.com/find-a-location/ 24 Hours is just not enough to get everything done. Let alone trying to squeeze in a workout. Do you have a gym membership laying around that you hardly use? And even if you make it to the gym, are you just not comfortable or driven enough? Or, perhaps you purchase some home-gym equipment and try to follow those generic videos, only to realize that you can't keep up with them and that no one is really around to motivate you. Now, imagine how convenient and effective it would be to have a Personal Trainer come to you. It's clear that your answer is "Rock Your Progress." We specialize in In-Home Personal Training at times and location that are convenient for you. Our exercise programs are customized to meet your goals. We track your workouts and monitor your progress using the latest tools and we are proven to get your results faster. We save you the time and hassle of trying to figure out an exercise program. Our trainers are Certified and Insured with complete background checks. To get started, give us a call at 603.502.7609 and we will schedule a consultation to understand your needs and fitness goals. We keep you motivated so you can get the best out of each workout. Don't make lack of time an excuse anymore, call now or visit us at rockyourprogress.com to start seeing a stronger and healthier you.
More details about Portsmouth, New Hampshire Personal Trainer Josephine Doroja

Kama Fitness, LLC
Karlene Murphy

Sandown, New Hampshire 03873

Specialties
Strength Building
Weight Loss
Yoga
Pilates
Aerobics
Kick Boxing
Body Sculpting
Aerial Fitness
Kama Fitness has been training a wide variety of clients in the fitness world, from busy moms and college students to business women for over 10 years all over the world. With certifications including Yoga, Pilates, Nutrition, Martial Arts and Personal Training, along with degrees in Education and the Social Sciences, we have the tools to guide you towards a Healthier, Happier You.
More details about Sandown, New Hampshire Personal Trainer Karlene Murphy
NEW HAMPSHIRE
PERSONAL TRAINER
You may not think that New Hampshire is the pinnacle in fitness training, but over the past several of decades it has made significant strides to promote and encourage a salubrious way of living with personal instructors and health clubs that is brining it to the forefront in the fitness community. With an abundance of physical activities to participate in as well as fitness instructing facilities the options are seemingly endless when contemplating all the recreations New Hampshire has to offer.
New Hampshire was the first state to declare its independence from England and has since made a practice of keeping with that tradition in other areas of the states affairs.
The first potato ever planted in the United States was in the Londonerry Common Fields in New Hampshire in 1719. Even then the people recognized the importance of substantial, hearty foods. It is imperative to incorporate a significant amount of greens with starches and proteins to encourage healthy weight loss. It would be even more beneficial to retain the knowledge of a certified personal trainer to facilitate an increased comprehensive eating and exercising regimen to ensure the maximum results from your endeavors.
This state is situated along the northern part of the eastern seaboard and borders three states as well as Canada. Because New Hampshire is located so far north, the summer season tends to be short in duration so you should take advantage of jogging around Lake Winnipesaukee, mountain biking through the trails of the Madame Sherri forest, or taking a swim in the Atlantic Ocean, all of which are exceptional cardio workouts and will help you lose weight. However, the winter months can be brutal with temperatures averaging below freezing. Thankfully New Hampshire offers some of the finest slopes in the nation where skiing appears to be the states pastime during this period. There are also several indoor fitness instructing establishments that provide state-of-the-art equipment and expert personal training.
Although New Hampshire is the 4th smallest state in the nation, it is big on history and scenery. Whether you stroll around the quaint towns of the area with a companion or hike Mount Washington with a personal instructor you will be captivated by the great state of New Hampshire.