THE PERSONAL TRAINER CONNECTION!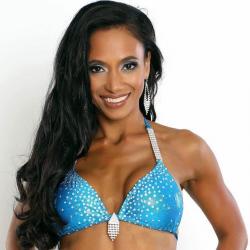 Training Women 40 and up!
Josephine Doroja -
(603) 502-7609
Portsmouth, New Hampshire 03801
Trains both men and women.
contact trainer
Specialties
Strength Building
Body Building
Weight Loss
Yoga
Aerobics
Body Sculpting
Personal Trainer Overview
Don't have enough time to go to the gym? Imagine the convenience of a Certified Personal Trainer coming to you! The answer is Jojo Fitness! Josephine, aka Jojo, founder of Jojo Fitness, specializes in In-Home Personal Training and Online Personal Training around your schedule. Don't make lack of time an excuse! Call TODAY at 603.502.7609 or email jojofitnesstraining@gmail.com to schedule your FREE Fitness Consultation. Would you like to train in person? I have access to five locations in the Seacoast Area! Check out this link: http://www.vanguardkeyclubs.com/find-a-location/ 24 Hours is just not enough to get everything done. Let alone trying to squeeze in a workout. Do you have a gym membership laying around that you hardly use? And even if you make it to the gym, are you just not comfortable or driven enough? Or, perhaps you purchase some home-gym equipment and try to follow those generic videos, only to realize that you can't keep up with them and that no one is really around to motivate you. Now, imagine how convenient and effective it would be to have a Personal Trainer come to you. It's clear that your answer is "Rock Your Progress." We specialize in In-Home Personal Training at times and location that are convenient for you. Our exercise programs are customized to meet your goals. We track your workouts and monitor your progress using the latest tools and we are proven to get your results faster. We save you the time and hassle of trying to figure out an exercise program. Our trainers are Certified and Insured with complete background checks. To get started, give us a call at 603.502.7609 and we will schedule a consultation to understand your needs and fitness goals. We keep you motivated so you can get the best out of each workout. Don't make lack of time an excuse anymore, call now or visit us at rockyourprogress.com to start seeing a stronger and healthier you.
Training Philosophy
Do more of what makes you happy :) Now is the time :)
Education
Bachelors Degree in Computer Science Associate Degree in Culinary Arts Associate Degree in Cosmetology
Bio
As a single mother and, at that time, speaking English as a second language, Josephine emigrated to America from the Philippines in 2001. Her home in the district of Tondo, Manila is a poor area where gyms are rare and athletics are limited to street-sports. While there were no formal leagues or teams, she was very active and enjoyed playing at all the common filipino games. Her earliest inspiration was her father who did push-ups every day when he was a cadet at the police academy. She was not aware of personal fitness and professional training until later in life. In 2007, at 33 years old, the need to improve her physical health was clear and she joined a gym for the first time. The members were nice, but, she was intimidated at the culture-shock of knowing how to use the machines and what her goals should be. In honor of her father, her first personal goal was to do a push-up (just one!) as she had seen him do when she was young. She progressed well personally and in 2011, at 37 years old, she felt the call to help others improve their health and physique by leading them thru the intimidation of going to the gym for the first time, demystifying the machines and even rethinking the culture of gyms and athletics in general. Most importantly, she knew she needed to model the benefits of regular fitness training for them to see that their goals, no matter how extensive, are achievable. As a group fitness instructor she enjoys helping everyone in her classes, and she has a personal connection with women and mothers who are seeking that motivation to get going. In January 2016 she decided, with the full support of her family, to take on the intensive athletic training needed to come to the World Beauty Fitness & Fashion (WBFF) World in Toronto as her first fitness competition. This is the culmination and highlight of what started in 2007 and a continuation of her commitment to helping other women set and grab their goals. She wants to inspire women - including her daughter, Jarylle, that is now a young woman - to reach their personal potential, at the right level and in their best health. In our youth oriented culture, there is a special need for women over 40 to see that they can maintain their health and physique at a high level - even if they are doing it for the first time. The WBFF Worlds 2016 in Toronto is the most visible stage for her as a 42-year-old to speak personally to women her own age both in the United States and her home country, Philippines as an active and positive voice encouraging them forward. Competing for the first time at an International Competition like WBFF was such an amazing experience for Josephine. She got a 2nd place which is amazing for a first-time competitor like her. Her life has been enriched with love and generosity of spirit of many people. She learned much and grown more and now wants to give. It is with gratitude and joy that she wants to return to others as was done for her... She enjoys learning and in sharing it, and she hopes to contribute to the enrichment of your life. This is Josephine after 40!