THE PERSONAL TRAINER CONNECTION!
Personal Trainers in Reston, Virginia
Personal Trainers in Reston, Virginia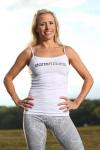 Fitness Expert /Owner of Storm Fitness Personal Training and Nutrition
Jessica Storm

Reston, Virginia 20194

Specialties
Strength Building
Weight Loss
Rehabilitation
Yoga
Pilates
Body Sculpting
Storm Fitness Trainers are the best in the industry and they know how to deliver results. During the initial evaluation our trainers talk in depth with the client to get an understanding of their medical history and fitness goals. We then perform an evaluation workout to identify the client's current fitness level. This process enables the trainer to focus on the necessary steps that need to be taken in order to get the client into the physical shape they desire. Instructors are trained in manual resistance methods, assisted stretching and exercises that help to strengthen tone, provide balance, and improve flexibility.
More details about Reston, Virginia Personal Trainer Jessica Storm