THE PERSONAL TRAINER CONNECTION!
Personal Trainers in Duluth, Georgia
Personal Trainers in Duluth, Georgia

Professional Personal Training and Sport Performance Training
Josh Rohr

Duluth, Georgia 30096

Specialties
Strength Building
Body Building
Weight Loss
Rehabilitation
Body Sculpting
Powerlifting, Sport Performance
My training programs are customized for you. Many trainers create generic workouts for their clients. This does work most times but it doesn't work optimally for you. Whether you realize it or not, I am evaluating your needs during every workout so that I can make customized changes to your program.
More details about Duluth, Georgia Personal Trainer Josh Rohr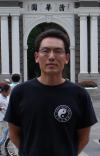 Executive Taichi Coach
Frank Xu

Duluth, Georgia 30097

Executive Taichi is a modern day adaptation of the ancient Chinese Taichi (a.k.a. Tai Chi Chuan, Taiji, Tai Ji Quan, 太极拳). This Taichi technique is pioneered by Master Frank Xu (许). It helps busy executives to cope with every day work related stresses. After mastering this exclusive Taichi technique, you will be able to achieve the state of physical relaxation and mental rejuvenation in as brief as 60 sec, all within the four walls of your office, or your hotel room.
More details about Duluth, Georgia Personal Trainer Frank Xu