THE PERSONAL TRAINER CONNECTION!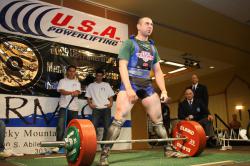 Professional Personal Training and Sport Performance Training
Josh Rohr -
330-464-4061
Duluth, Georgia 30096
Trains both men and women.
contact trainer
Specialties
Strength Building
Body Building
Weight Loss
Rehabilitation
Body Sculpting
Powerlifting, Sport Performance
Certifications
ACSM Certified Personal Trainer American Heart Association USA Powerlifting Member
Personal Trainer Overview
My training programs are customized for you. Many trainers create generic workouts for their clients. This does work most times but it doesn't work optimally for you. Whether you realize it or not, I am evaluating your needs during every workout so that I can make customized changes to your program.
Training Philosophy
I don't have one philosophy or one way of motivating clients. Everyone is different and in most situations, there is more than one way to get results. Because of this, I work with clients and encourage feedback to make sure that they are enjoying the workout to the fullest. The more clients enjoy working out and can take ownership in it, the better the results. I am a firm believer in everyone lifting weights, whether your goal is to compete in powerlifting or just to lose weight and tone up. Yes, I am a powerlifter. I do expose all of my clients to the 3 powerlifts (squat, bench press and deadlift) but I will not force you to become a powerlifter. The flip side is that powerlifting is a great way to lose weight and get in shape while allowing you to compete against yourself and others if you wish. It is a great tool for motivating and challenging yourself. Powerlifting is not to be confused with bodybuilding. Women, you will not turn into men. Men, you will not turn into the Hulk. Aside from the lifting weights part, depending on your goals, I believe in an all around exercise program. This includes strength training, flexibility, cardiovascular training as well as mental training techniques. Part or all of this will be included in your training for optimum results and fitness.
Education
B.S. in Exercise Science (2007) Minor in Coaching (2007) Coach of Ashland University Powerlifting Club (2002-2007) Ashland University Personal Trainer (2007) 3x USA Powerlifting National Champion 2006 Junior World Powerlifting Bronze Medalist
Bio
I was born and raised on a Dairy Farm in Northeast Ohio and worked there throughout gradeschool all the way through college. After I graduated from Ashland University in 2007, I moved to Duluth, GA to start my personal training business. It was there that I fell in love with helping people achieve their goals and look forward to helping you reach yours!