THE PERSONAL TRAINER CONNECTION!
Personal Trainers in Pasadena, California
Personal Trainers in Pasadena, California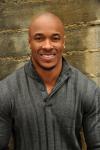 Get in shape for the New Year with Body Couture!
Thai Edwards

Pasadena, California 91107

Specialties
Strength Building
Body Building
Weight Loss
Rehabilitation
Kick Boxing
Body Sculpting
Personal Chef
Body Couture is a group of health, fitness, and culinary professionals who specialize in all aspects of personal training, nutrition, and food preparation. Our training techniques are derived from methods used in both professional sports and bodybuilding. Our gourmet cuisine not only meets your nutritional needs, but it also accommodates your busy lifestyle ensuring the results you've always wanted. We all love designer labels, but we believe that the best thing to wear is nothing at all. Call Us Today for a free consultation. Our goal is for you to look, and feel good in the skin you're in. Hours: Sun-Sat. 5:00 a.m. - 9:00 p.m.
More details about Pasadena, California Personal Trainer Thai Edwards

Certified Professional Trainer
Brad Langan

Pasadena, California 91107

Specialties
Strength Building
Body Building
Weight Loss
Rehabilitation
Aerobics
Body Sculpting
Corrective Exercise

MJMP Fitness
Dennis Anthony

Pasadena, California 91107

Specialties
Strength Building
Body Building
Weight Loss
Rehabilitation
Body Sculpting
Competitors