THE PERSONAL TRAINER CONNECTION!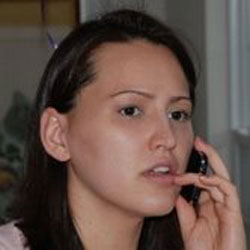 A different approach to fitness
Veronica McBride -
540-317-1142
Culpeper, Virginia 22701
Trains both men and women.
contact trainer
Specialties
Strength Building
Body Building
Weight Loss
Body Sculpting
Boot Camp
Certifications
NFPT-CPT
currently studying NASM-CPT and CEC's related to back
knee and shoulder injuries. Recently received continuing education certification for FEMALE TRAINING with NFPT.
Personal Trainer Overview
Methods and techniques will vary based on client need and health. As a trainer I recognize that there is no one training method that can be applied to every client. Therefore, I am constantly studying to ensure I have the knowledge to make my clients happy.
Training Philosophy
I believe that it is impossible to achieve maximum results without first achieving a connection between the mind and body. I teach my clients how to manipulate both and create a synergistic approach to getting healthy. This method helps to alter the perception on training from being a chore to being something you can't live without.
Education
Home Study through accredited certification programs and one-on-one coaching with body-building coach, David Spindle.
Bio
I remember being a little girl and reading my father's books by Franco Columbo, Arnold Schwarzenegger and many other famous body builders . I would watch my father try to apply the workouts and would always want to do them too. Even though I interrupted his routines he would always let me jump in. He helped show me how to properly do the exercises and always explained to me which muscles we were working, how not to hurt myself and would explain the importance of resting and sticking with a rhythm. I remember feeling so cool working out in the garage with dad and just hanging out. He would even let me "spot" him even though he was lifting more than I weighed! But then we grow up... As an adult I worked the bar tending scene for several years until I turned mortgage extraordinaire. After the birth of my daughter in December 2007 I returned to the mortgage industry only to find the continuing chaos was more than I could handle now that I had an infant (and a 3+ hr commute!). The stress wasn't helping me lose any of the extra 60 lbs I picked up from my pregnancy and wasn't helping the situation at home. In a twist of fate and luck I was able to convince my father to place the fate of his brand new business, Anytime Fitness, into my hands. Lo and behold it was the best decision we both made. The quality of my life has never been better. My years of experience in customer service driven industries has truly helped me to make necessary connections with clients and members. Once a client is able to trust you they are more willing and able to meet the demands I may impose in our training sessions. The past year has been amazing!