THE PERSONAL TRAINER CONNECTION!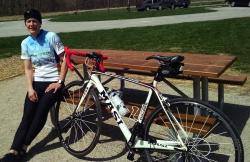 Live Life Better
Lisa Masci -
(614) 296-6441
Columbus, Ohio 43209
Trains both men and women.
contact trainer
Specialties
Strength Building
Weight Loss
Endurance Training
Personal Trainer Overview
My training style is different than most. I program your training according to what works best with your lifestyle. I will be your mentor and coach helping you achieve goals you never thought possible. I am certified in Personal Training, Sports Nutrition and Senior Fitness.
Training Philosophy
Health and fitness are my passion! I believe anyone can live life better through good nutrition and being active. Fitness isn't about being in the gym an hour a day, 6 days a week. It's about being active in a way that you enjoy and in a way that motivates you to want to do more!
Education
I have a degree in microanatomy with a background in chemistry. I am also NASM certified in personal training, senior fitness and NESTA certified in sports nutrition.
Bio
I grew up in a small town in a house surrounded by farms. I was very active as a child and LOVED to be outdoors. During my high school years my father became very ill. I witnessed poor nutritional education from hospitals, read conflicting health reports (by mass media) and experienced frustration with the lack of general fitness knowledge from professionals. After graduating from college I set out on a path to help people. I wanted people to understand the power they have by making positive choices. Health doesn't come in the form of a pill or shake, it comes from educating yourself and having the right people to support you along your journey.