THE PERSONAL TRAINER CONNECTION!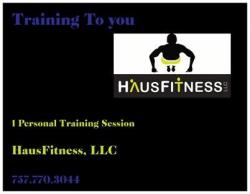 Personal/Group Trainer
Jenae H -
(757) 770-3044
Virginia Beach, Virginia 23451
Trains both men and women.
contact trainer
Specialties
Strength Building
Weight Loss
Aerobics
Training Locations
home
work
gym
studio
outdoor
Certifications
AFAA
Bachelors in Sport Management
CPR
Personal Trainer Overview
I specialize in Metabolic resistance and conditioning training. 60 minute sessions that will measurably and dramatically impact your life and health by breaking you through the inertia barrier - that is the physical culture of fitness, health and wellness as a lifestyle. I bring the workout sessions to you, equipment and all. If a gym is your preference, I have those options as well. Exercise is supposed to make you feel good, energized, clear-minded, and ready to meet daily activities with functionality and grace. My goal is to make each session motivating, challenging, fun, yet very effective for an overall healthy mind-set and body.
Training Philosophy
Life is busy. Schedules of any kind change day to day constantly. What happens next, we begin to not take time for ourselves to mold and create strong, energetic selves to complete those daily activities, those schedules. Make time for your fitness. There is always some time to get some exercise in. Even if you are breaking up the sessions throughout the day, 10 minutes here, 20 minutes there, 15 minutes later, everyday...you are steadily changing your lifestyle for the better. And always remember that the competition is against the little voice inside saying quit and you can't do this. Yes you can.
Education
I've been in the fitness industry for 14 years. I am certified AFAA Personal and Group Fitness Trainer. BS in Sport Management. I teach spin, step aerobics, spin circuit, boot camp, body bar, bosu, TRX, Kettlebell. I work for Fitness Together teaching the group fitness training at Sentara Hospital.
Bio
Fitness has been a part of my life and has been the one constant reminder to me that I am alive, free, and strong through the good times and bad. Through the years, I have tried every fitness trend that has come and gone. Some have worked and some were just not for me. We have all experienced this and to be honest, all fitness trends are not for everyone. That's why I truly believe it is so important to find the fitness patterns that work for you, that keeps you challenged, motivated, and keeps you feeling accomplished after every session. Going through divorce and a significant other dying at such an early age, staying active has been the true constant in my life. I feel that even if for 25-30 minutes of just moving my body, I was able to clear my mind at such difficult times in my life. I was able to think with clarity and feel strong in my life's process. Fitness and just feeling strong get's me through difficult times. But of course, this was my journey. Fitness is definitely not just a career, but a true passion of mine. If I could reach out and help at least one person out there hit their goals, get them to looking and feeling better about themselves, then that means more to me than anything. I want to share my passion with you.