THE PERSONAL TRAINER CONNECTION!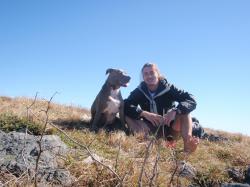 Simplify Fitness, no bells or whistles
Daniel Althoff -
434-941-6310
Nags Head, North Carolina 27959
Trains both men and women.
contact trainer
Specialties
Strength Building
Weight Loss
Yoga
Taichi
Kick Boxing
Body Sculpting
bodyweight exercises
Certifications
International Sports Sciences Association Certified Fitness Trainer 06/08
Personal Trainer Overview
A blend of yoga, martial arts drills, both basic and advanced body weight exercises, high intensity interval training and the rythmic movements of capoeira. Searching for a balance between strength, flexibility, power, endurance and coordination as well as understanding and conquering your personal limitations is the true goal. A nice body is the byproduct.
Training Philosophy
You do not need to be in a gym 3-7 days a week to be fit. Timing your exercise to ramp your metabolism all day by doing simple exercises that require only your body weight, or perhaps a resistance band, or jump rope that fits in your pocket. Any piece of fitness equipment will work as long as it is used in a dedicated fashion. Therefore the real challenge is cultivating the dedication. By keeping exercise simple, and working with the earth by taking advantage of our surroundings we can forge our bodies in the fires of our will. "Change is inevitable, growth is optional" -Masahiko Kimura
Education
9 years of personal study including classic strength training, jeet kune do practice, capoeira practice, yoga, qui gong, boxing, judo, aikido, the training regiments of great athletes and old time strongmen, study of myself and the process of getting to know one's body. 2 years endurance training for kali silat with Guru Chris Nordstrom.
Bio
I have, over the last 10 years studied the practice of all sorts of fitness from unconventional to classic, tried and true. I have tried with great success to incorporate what works, and shed what is a waste of time. As stated above, ANYTHING is better than nothing. I have spent a decade in an effort to distill exercises to address the balance of the being. Please feel free to contact me if you have any questions.