THE PERSONAL TRAINER CONNECTION!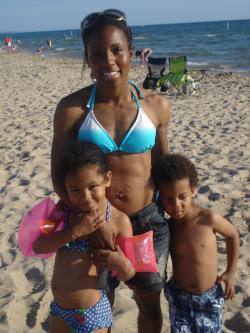 Build a better body for you and a better you for life!
Brandy Golden -
616-481-6653
Cleveland, Ohio 44101
Trains both men and women.
contact trainer
Specialties
Strength Building
Weight Loss
Rehabilitation
Certifications
American College of Sports Medicine
Personal Trainer Overview
As a trainer, I believe in pushing my clients hard. I combine resisitance training with core training, plyometrics, and calisthenics with little rest in between sets. In order to complete each workout you will need mental strength more than physical strength. There will be plenty of times when I instruct you to perorm an exercise that you would rather skip. However, improvement is usually not a result of doing the things you like, its a result of enduring the difficult things you dislike.
Training Philosophy
My mission is to design and implement a program that will push you beyond your percieved limits- physically, mentally and emotionally. The journey to health can be demanding, requiring hard work in the gym and some restraint in the kitchen. However, the fundamental principles needed to achieve optimal health are the same principles required to suceed in life. Self-Discipline: Bring y our body into subjection. You control your actions. It should not control yours. Perserverance: When your body says stop, you must train your mind to say go! Fatih: You must believe it or you will never acheive it. These are the tools that will push you from just being better to being your best! With discipline, perserverance, and faith, we will build a better body for you and a better you for life.
Education
BS in Health Science w/ emphasis in exercise physiology current working on Doctorate of Physical Therapy
Bio
At an early age, I began to have a passion for exercise and healt. From ballet class to basketball practice; from roller blading to runinning track, I loved pushing my body to the limit. Yes, it could be painful, but the effect of exercise on my physical and emotional being was so rewarding. After realizing this for myself, I had to share the gift of health with others. In 2007, I graduated form Lee university with a degree in Health Science. One year later, I became certified as a Health Fitness Specialist through the American College of Sports Medicine. For the past few years, I have personal trianed in a variety of settings. My career began at Spectrum Health Operations. This is a facility that specializes in creating exercise and nutrition plans for clients with diabetes and heart disease. Since then , I have worked in personal training studios such as CoachMeFit; provided in home training sessions; conducted health seminars among church groups; and most importantly, given the gift of exercise and nutrition to my kids. There is always a time, a place and a reason to cherish the bodies we were given. It is my mission to help you begin this jourey today.