THE PERSONAL TRAINER CONNECTION!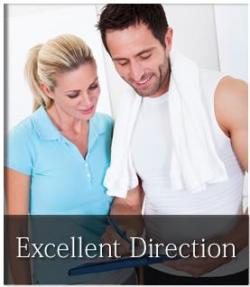 Private Personal Training Studio in Fairfax!
Ashley Ivey -
(703)865-5893
Fairfax, Virginia 22032
Trains both men and women.
contact trainer
Specialties
Strength Building
Body Building
Weight Loss
Rehabilitation
Yoga
Pilates
Aerobics
Kick Boxing
Body Sculpting
Health Coaching
Certifications
Our personal trainers are certified through NASM or ISSA.
Personal Trainer Overview
I-CARE Health & Wellness Center continues serving the community by DEFINING WELLNESS: Wellness emphasizes independence and healthy lifestyle choices. The aim is to improve the QUALITY OF LIFE AND OVERALL HEALTH of each participant as opposed to emphasizing treating disease. This is done so that the participant is able to meet and maintain a healthy lifestyle INDEPENDENTLY We do not advocate pill supplements/vitamin pills, health passivity or dependency. Instead, we encourage natural food nutrition, active participation, and true health independence. We ask that each person take an active role in their life and responsibility for their decisions in order to improve and maintain their health. Our approach is true HEALTH CARE Empowerment Prevention Awareness We are here as educators and motivators in your journey. I CARE ABOUT LIVING
Training Philosophy
We have a Private Personal Training Fitness Studio! No Stares… No Judgement… Just Fitness! Here, you will be in a private 1:2:1 studio with a certified personal trainer. Our trainer has your undivided attention the entire session! GAIN Weight Loss, Muscle Tone, Core Strength, Agility, Cardio Endurance We are different from every other personal training or fitness facility! We provide Health Coaching FREE with all Fitness/personal training sessions. In personal training, nutrition is not in most curriculum. This is why even though they can get you to loose the weight, it is hard to keep it off! We have Health Coach sessions included so you will loose it and keep it off. We teach you how rewarding healthy living is! icareaboutliving.net
Education
Our personal trainers have many years of experience and expertise in the areas of weight loss, body shaping and endurance training. Our Holistic Health Coach has 13 years healthcare experience.
Bio
Ashley's physical therapy background &13 years of healthcare experience helped her shape the mission of I-CARE Health & Wellness Center. Ashley recognized the gravity empowerment, prevention and awareness had in the lives of the people she was once treating with physical therapy services and saw that the healthcare industry seldom embraces this. In Oct 2013 I-CARE Health & Wellness Center was opened in Fairfax, Virginia focusing on the mission to enrich and improve participants quality of life while instilling independence so that they continue to be able to progress in the future on their own. Ashley continues her role in I-CARE as a Holistic Health Coach while implementing the healthy lifestyle choices she advocates.