THE PERSONAL TRAINER CONNECTION!
Personal Trainers in Perkasie, Pennsylvania
Personal Trainers in Perkasie, Pennsylvania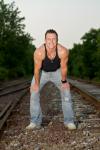 Sweaty With Getty In Home Fitness
Grant Cook

Perkasie, Pennsylvania 18944

Specialties
Strength Building
Body Building
Weight Loss
Rehabilitation
Body Sculpting
Sports Specific
I bring the work out to you! With people's busy schedule and need to get in shape due to lack of exercise and improper eating habits, Sweaty with Getty makes getting fit, fun and fast. I begin with a fitness evaluation to see your current fitness level. We take measurements and learn the fundamentals of proper exercising. After the foundation is built each session will be explosively progressed to maximize your results in the fastest time available. During the process, we talk in detail about your eating habits. By working together and changing your thought process you will learn how to eat healthy and right. There is no limit in which your workout can surpass. Your body will be changing as we progress the work out. Muscle confusion will be working at its finest.
More details about Perkasie, Pennsylvania Personal Trainer Grant Cook

No Membership, Just Results!
Kelly Knueppel

Perkasie, Pennsylvania 18944

Specialties
Strength Building
Body Building
Weight Loss
Pilates
Aerobics
Body Sculpting