THE PERSONAL TRAINER CONNECTION!
Personal Trainers in Roswell, Georgia
Personal Trainers in Roswell, Georgia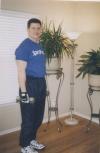 The Body You Deserve
Gary Royals

Roswell, Georgia 30075

Specialties
Strength Building
Body Building
Weight Loss
Body Sculpting
Children Weight Loss
Whether you are trying to lose or gain weight, a detailed plan based on your health and fitness goals is essential. All clients meet with their trainer (at no charge) to discuss their goals and functional limitations/constraints if any prior to their first workout. What makes us different is that we really listen, provide encouragement and support, and get results because of the comprehensive exercise plan we develop upfront and monitor along the way. We work with children and young adults ages 8-18 with regards to weight loss and/or sport specific training.
More details about Roswell, Georgia Personal Trainer Gary Royals

Aaron Runner, MS, CSCS
Aaron Runner

Roswell, Georgia 30076

Specialties
Strength Building
Weight Loss
Sports Performance
Full-Stride Performance is a dedicated performance training facility for athletes and non-athletes alike. We offer the camaraderie of group exercise training with the 1-on-1 instruction of personal training. So what makes us different from other group training programs? We test! If you are motivated enough to train with us, you'll get better and we can prove it. Our comprehensive testing batteries are designed with evidence-based tests and conducted by qualified testers to ensure the accuracy of your results. We re-test periodically so that you can see your progress! We program! We don't just throw workouts together with the latest fad exercises randomly. We design our workouts to make sense, not just within each workout, but long-term as well. We don't over-specify or over-generalize. Over-specialization by training just one way or training with one type of equipment doesn't help you build a healthy fitness foundation. Conversely, over-generalizing can also delay success in the ares most important to you through lack of focus. At FSP, we believe a well-rounded and focused program is the key to achieving quantifiable results, inside and outside the facility. Lastly, our coaches make us different. Our coaches are degreed, certified and experienced. That means they have a minimum of a bachelors degree in an exercise science-related field. It means they passed a grueling exam from an internationally accredited certification. It means that they were vetted and have the experience necessary to meet our high standard. In other words, you're in good hands with our staff.
More details about Roswell, Georgia Personal Trainer Aaron Runner