THE PERSONAL TRAINER CONNECTION!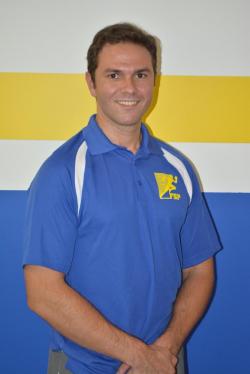 Specialties
Strength Building
Weight Loss
Sports Performance
Certifications
Certification: Certified Strength & Conditioning Specialist (NSCA) Memberships: National Strength & Conditioning Association
American College of Sports Medicine
Personal Trainer Overview
Full-Stride Performance is a dedicated performance training facility for athletes and non-athletes alike. We offer the camaraderie of group exercise training with the 1-on-1 instruction of personal training. So what makes us different from other group training programs? We test! If you are motivated enough to train with us, you'll get better and we can prove it. Our comprehensive testing batteries are designed with evidence-based tests and conducted by qualified testers to ensure the accuracy of your results. We re-test periodically so that you can see your progress! We program! We don't just throw workouts together with the latest fad exercises randomly. We design our workouts to make sense, not just within each workout, but long-term as well. We don't over-specify or over-generalize. Over-specialization by training just one way or training with one type of equipment doesn't help you build a healthy fitness foundation. Conversely, over-generalizing can also delay success in the ares most important to you through lack of focus. At FSP, we believe a well-rounded and focused program is the key to achieving quantifiable results, inside and outside the facility. Lastly, our coaches make us different. Our coaches are degreed, certified and experienced. That means they have a minimum of a bachelors degree in an exercise science-related field. It means they passed a grueling exam from an internationally accredited certification. It means that they were vetted and have the experience necessary to meet our high standard. In other words, you're in good hands with our staff.
Training Philosophy
Through safe explosive training, athletes and non-athletes can improve their performance and quality of life in a fun, group environment.
Education
-Master of Science: Kinesiology - University of Maine -Bachelor of Science: Applied Health Fitness - Plymouth State University
Bio
Coach Runner is the owner and director of Full-Stride Performance. Coach Runner is a former collegiate hockey player. He played his youth hockey for the Atlanta Fire before leaving home at 16 to play Midget AAA for the San Diego Jr. Gulls and later, Jr. A for the Boston Bulldogs. He was recruited to play NCAA hockey for the Plymouth State Panthers where he earned his Bachelor of Science in Applied Health Fitness, graduating with honors. From there, he earned his Master of Science degree in Kinesiology, graduating at the top of his program. While at the University of Maine, Coach Runner worked as a graduate Assistant. He taught undergraduate classes and labs, collected and compiled a database of physical education testing data throughout Maine public schools, and worked as an off-season Assistant Strength & Conditioning Coach for Football, Soccer, and Field Hockey. Additionally, he also worked as the Head Strength & Conditioning Coach for Husson University in Bangor, ME. After moving back to Georgia, Coach Runner became an Assistant Coach/Strength & Conditioning Coach for the '04 birth year Atlanta Fire AAA hockey team as well as the Goaltending Coach for the Atlanta Fire program. Coach Runner is a Certified Strength & Conditioning Specialist through the National Strength & Conditioning Association and a USA Hockey Level 3 Coach. He is also a published author in the Journal of Strength & Conditioning Research, a peer-reviewed journal through the NSCA. He resides in Alpharetta, GA.