THE PERSONAL TRAINER CONNECTION!
Personal Trainers in Roswell, Georgia
Personal Trainers in Roswell, Georgia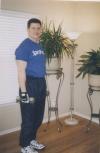 The Body You Deserve
Gary Royals

Roswell, Georgia 30075

Specialties
Strength Building
Body Building
Weight Loss
Body Sculpting
Children Weight Loss
Whether you are trying to lose or gain weight, a detailed plan based on your health and fitness goals is essential. All clients meet with their trainer (at no charge) to discuss their goals and functional limitations/constraints if any prior to their first workout. What makes us different is that we really listen, provide encouragement and support, and get results because of the comprehensive exercise plan we develop upfront and monitor along the way. We work with children and young adults ages 8-18 with regards to weight loss and/or sport specific training.
More details about Roswell, Georgia Personal Trainer Gary Royals