THE PERSONAL TRAINER CONNECTION!
Personal Trainers in Vero Beach, Florida
Personal Trainers in Vero Beach, Florida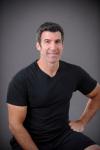 Private Fitness, Nutrition, & Massage
Christopher Gurny

Vero Beach, Florida 32963

Specialties
Strength Building
Body Building
Weight Loss
Body Sculpting
At Ocean Drive Elite Physiques, we offer flexible membership plans to accommodate your fitness goals and budgets. Not sure if our private fitness center is right for you? Get your first session free! Our flexible plans have no contracts so, you can pay-as-you-go. Whether you are getting ready for a special occasion, prepping for a fitness competition, we have a membership plan for you. We also have nutrition and meal planning with a Registered Dietician and offer post workout recovery with our Massage Therapist. Get addicted and get great discounts when you sign up for our Elite or Premier plans. Any way you go, you'll get results.
More details about Vero Beach, Florida Personal Trainer Christopher Gurny