THE PERSONAL TRAINER CONNECTION!
Personal Trainers in Deltona, Florida
Personal Trainers in Deltona, Florida

Training for strength and endurance
Carey G. Wilson

Deltona, Florida 32725

Specialties
Strength Building
Body Building
Weight Loss
Body Sculpting
My chest workout is a series of supersets..Example..I start of w/ bench press and the incline. I alternate b/tween both 5 sets for bench and 4 for the incline. I start w/ 190 for 10 reps and go to the incline, do 185 for 10, go to bench 215 for 10, incline 210 for 10, bench 230 for10, incline 225 for 10, bench 250 for 10, incline 245 for 10 and last bench 280 for 6. I will get to 10 reps on this soon, then I will up the weight 5 more lbs. That is one example..I do 10 exercises for the chest, and I superset them all..this gives me little time for rest and a great pump..My endurance is off the charts b/cause of this routine..I still have enough energy to finish my workout w/ 1/2 hr of sit-ups and dips, superseting of course, that is 40 decline sit-ups and 60 progressively faster dips...w/ body weight that is..
More details about Deltona, Florida Personal Trainer Carey G. Wilson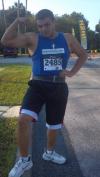 BODYDAVE.com
Body Dave

Deltona, Florida 32738

Specialties
Strength Building
Body Building
Weight Loss
Rehabilitation
Visit www.BodyDave.com for more info. With a background consisting of over 20 years in Fitness Training, Bodybuilding, and health related fields, BODYDAVE can help you get in shape Now. Train in the comfort of your own home, and have a custom diet and workout designed just for you. All Personal Training Routines, Nutrition Consultation and Diet Coaching are available long distance, by Text, Email, and Phone! So there's NO EXCUSES! You get everything you need to succeed! Email Dave@BodyDave.com to set up your FREE fitness consultation TODAY!
More details about Deltona, Florida Personal Trainer Body Dave