THE PERSONAL TRAINER CONNECTION!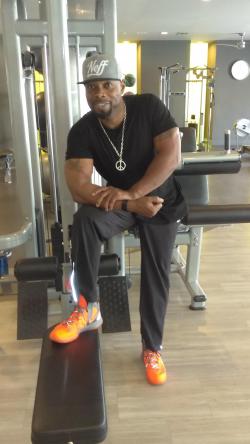 CORRECTIVE EXERCISE SPECIALIST
tswa blue -
9723331706
Dallas, Texas 75235
Trains both men and women.
contact trainer
Specialties
Strength Building
Body Building
Weight Loss
Rehabilitation
Aerobics
Body Sculpting
Certifications
NASM: CPT WES CES AAAI/ISMA
Personal Trainer Overview
Backed with over 20 years of personal training experience, and an eight year US. Army infantry background; my extensive training and attention to details gives me the confidence that I can assist any group, or individual in taking thier fitness program to the next level!
Training Philosophy
MY CLIENTS SEE RESULTS FAST! NASM: Weight loss specialist, Corrective exercise specialist, and Certified personal trainer; I offer my clients the best of three worlds. Instead of just tossing you on the treadmills and hoping for boring results... I'll reintroduce you to your body and show you how to maximize body weight exercises to gain more effective results.
Education
Asso. Business
Bio
I played sports through out my childhood life, and football in college. I'm an eight year us army veteran. I was station in Berling Ge two years before the fall of the great wall! I have had two tours in the middle east. I have a very positive outgoing personality. My clients LOVE me, becasuse I listen! It's never about me, but always about you. With that being said... I'm very respectful, but the work will get done! You pay me to do a job, and I will get my job done! If you are seeking a no-nonsense trainer that will get you there! Tswa Blue