THE PERSONAL TRAINER CONNECTION!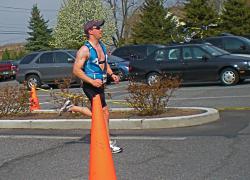 Any Body Can Be Excellent
Tim Card -
(717) 682-1119
Mount Joy, Pennsylvania 17552
Trains both men and women.
contact trainer
Specialties
Strength Building
Body Building
Weight Loss
Aerobics
Body Sculpting
Bicycling
Certifications
ACSM Certified Personal Trainer
Personal Trainer Overview
No two people have exactly the same idea of what their "excellent" body is. My goal, first and foremost, is to understand what it is that you want from your body. Once we determine what you are looking towards, I will work with you to understand where you are now and from where you are coming. WIth that information we will work together to create a singular, specific program to help you acheive your goals.
Training Philosophy
I am convinced that the pursuit of the ideal of "perfection" is paralyzing. There is no one perfect body. However, any body can be excellent. Aristotle defines excellence as "fulfilling the purpose for which a thing is made". With that in mind, what is excellent for one person may be insufficient for another. A bodybuilder does not need to look like or work out like a cyclist or a triathlete or a basketball player or a wrestler does. But, each can be excellent in their own right. What I strive to do is to help you fulfill your potential, to become what you are, to be excellent.
Education
BA Philosopy BA Theology
Bio
I am not your typical trainer. I have a dual degree in Theology and Philosophy, a beautiful wife and 5 incredible children. I am not the musclehead you see in the gym. I am a guy who has let his weight get out of control, got on top of it only to watch it balloon again, to finally putting all the pieces together and working hard to stay in shape. I know what it is like to have a job and kids and responsibilties and any number of reasons to not take care of yourself. But I have overcome the obstacles and stopped listening to the excuses. So can you.