THE PERSONAL TRAINER CONNECTION!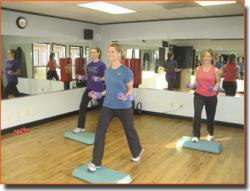 College Station Personal Trainer
Terri Gonzales -
979-764-0814
College Station, Texas 77845
Trains both men and women.
contact trainer
Specialties
Strength Building
Weight Loss
Yoga
Pilates
Aerobics
Kick Boxing
Body Sculpting
Certifications
NASM-CPT CPR and AED Certified
Personal Trainer Overview
The personal training experts at Decore Fitness Studio are here to instruct clients in proper exercise technique, assess fitness levels, provide nutritional advice and motivate you toward your personal fitness goals. When you reach a point that you feel "I can't do it"... we'll be here to tell you that you can and we'll ensure that you do! To learn more about Decore Fitness Studio and the Certified Personal Trainers on our staff, click here for full bio information. http://www.decorefitness.com/personal-trainers.html
Training Philosophy
After seven years in the private personal training industry, I decided to open the doors of DeCore Fitness Studio because I saw a need in the community for a fitness facility that was not solely focused on the cosmetic benefits associated with fitness. Although positive changes in physique are a value-added benefit to working out, improved physical and mental health, self-confidence and general well-being are the primary objectives. You have many choices in fitness facilities in Bryan, College Station and the Brazos Valley and although I hope you will make DeCore Studio an integral part of your fitness plan, my true hope for you is a LONG, HAPPY, HEALTHY life.
Education
NASM-CPT Texas A&M Class of 2002 - BS Kinesiology/Exercise Physiology CPR Certified AED Certified 8 Years Professional Personal Training experience
Bio
All three trainers at Decore Fitness are listed in detail on our biography page at http://www.decorefitness.com/personal-trainers.html