THE PERSONAL TRAINER CONNECTION!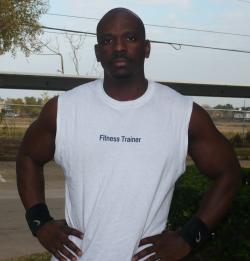 Specialties
Strength Building
Body Building
Weight Loss
Rehabilitation
Aerobics
Spin
Body Sculpting
Flexibility
Training Locations
home
gym
studio
work
outdoors
Fitness Center
Certifications
ISSA-International Sports Sciences Association:Fitness Trainer Red Cross: Aed and Cpr American Life & Health Foundation: Aed and Cpr
Personal Trainer Overview
One of the most important strategies for reaching a goal is having a great training method. With proper technique, being focus, hard work and dedication.The results you want will pay off at the end. As a Fitness Trainer I will lead by example, make sure I demonstrate the proper technique, answer any question best of my knowledge. My training program is three great steps. Stretching, Cardiovascular Training, and Strength Training. The three steps I just mention are very effective. My goal is to make sure clients reach their goal. If you have any question of like for me to train you don't hesitate to contact me. 281-658-7415 sidneyfitness@ymail.com http://www.issacertifiedtrainer.com/sidneycarterjr Fees:$35 to $50 for one hour session one-on-one training. $15 to 25 for one hour session group training. Session package of 6 $210 to $300. Session package of 12 $420 to $600. Group training session package of 6 $150. Group training session package of 12 $300. Weekend special: Saturday and Sunday $20 1 hour session. Three months package $1200 for one-one-one training. Three months package $700 for group training.
Training Philosophy
Knowledge is important. So what I learned and obtained I like to teach and share with my clients, family, friends, and anybody that need help. I am very confidence in my ability to understand and teach all aspects of fitness. I believe that Personal Trainers change lives everyday. I believe in all these methods.Weight training, cardio, stretching, nutrition, diet, aerobics, and meditation. All these methods will benefit clients and impact they life. I motivate my clients by pushing to limit and make sure they don't give up on they goal. And challenge their self, regardless of the obstacles. What motivate me to train? Making a difference in people life.I believe appearance, knowledge, dedication, and personality, is important to be a great Personal Trainer. My agenda is to help clients improve their body, their self-esteem, their self-respect, and above all, their good health. I believe every one's body is a temple.
Education
I'm certified by the International Sports Sciences Association as a certified Fitness Trainer. This certification is the most prestigious in the industry and qualifies me to work with virtually any individual wishing to improve their fitness. I studied, anatomy, physiology, kinesiology, biomechanics, physical fitness, program development, nutrition, injury, and disease. I also, obtain aed and cpr certificate from red cross and heart association.I graduated in 1996 at Cypress Falls High School.I also attend lone star college in computer programming, word, excel, access, and microsoft. I spend years in public health clubs, gyms, and seminars, learning from fitness professionals. I've been training since 2009 and have trained more 13 clients in my career. My clients is able to reach their goal with my fitness program.
Bio
My name Sidney Carter.I was born in Houston,TX.I'm current living in Houston.I'd like to tell you bit about myself. I'm certified by the International Sports Sciences Association as a Certification Fitness Trainer. I devoted my life to fitness. Helping clients to achieve their goals. My clients always tell me that i'm always energetic. And with that energy that give them that extra push they need. One of my greatest assets in life that I have the ability to motivate and inspire people.