THE PERSONAL TRAINER CONNECTION!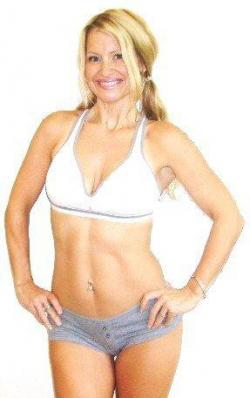 WOMENS FITNESS / THE GODDESS WITH-IN FITNESS
SHEREE MOORADIAN -
(407) 620-2918
Apopka, Florida 32703
Trains both men and women.
contact trainer
Specialties
Strength Building
Body Building
Weight Loss
Yoga
Pilates
Body Sculpting
Certifications
ISSA PERSONAL TRAINER/ FITNESS INSTRUCTOR CERTIFICATION YOGA FOR PERSONAL TRAINERS CERTIFICATE
DIET AND NUTRITION THERAPY COMPLETED AT SEMINOLE STATE COLLEGE CERTIFIED RESPIRATORY THERAPIST RECEIVED from SEMINOLE STATE COLLEGE
Personal Trainer Overview
Hi ~when you train with me you can expect to have fun while reshaping, toning, and burning calories. I fuse together many different exercise elements such as yoga, pilates, bellydance, weight training, resistance training, calisthenics and body movement exercises. I am always searching out new techniques and exercises ~ trying them out on myself first to find what is most effective. I am a big fan of the Tracy Anderson Method. Tracy Anderson is the trainer to Madonna, Shakira, Gwenyth Paltrow, Jennifer Lopez and many others. I believe exercise should be fun and enjoyable. It truly is a passion for me to share my knowledge and help others to achieve their goals. Client list includes Kiana Politis, professional stunt actress for the tv series Burn Notice and Charlie's Angels 3 filmed in Miami.
Training Philosophy
I believe getting fit and healthy not only involves the physical aspects but also taking care of ourselves nutritionally and mentally. Taking care of the wholeself to be the healthiest and happiest we can be possibly be. Living fit leads to living happy.
Education
I had worked for years as a staff personal trainer for large nationwide gyms...doing group fitness classes, evaluations, one on one training, nutrition coaching, and workout plans.
Bio
Hi! My name is Sheree and the name of my company came from the philosophy and belief that every woman no matter what age, size, or shape has a GODDESS WITHIN. Sometimes we lose sight of her and just need a little motivation, inspiration, and guidance to bring her back out. I myself have struggled with weight. I was a chunky teenager and also have had to deal with losing post baby pounds following 2 c-sections. It took me years to find the right combination through diet and specific exercises to finally shed and transform my body~ keeping those unwanted pounds off. I want to share all I have learned with you and help you to achieve your personal body goals. It is my mission to give every woman the tools and knowledge she needs to look and feel her best. Let me help you to be the GODDESS you were born to be.