THE PERSONAL TRAINER CONNECTION!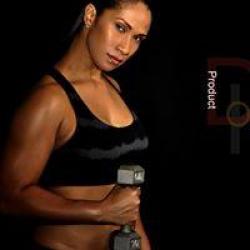 Let's Get It Done!
Sharon "Skky" Grace -
(832) 434-0054
Cypress, Texas 77433
Trains both men and women.
contact trainer
Specialties
Strength Building
Body Building
Weight Loss
Kick Boxing
Body Sculpting
Certifications
ISSA - Certified Personal Trainer
Personal Trainer Overview
This personal trainer's passion is helping clients reach their fitness goals, utilizing cross-training to help them be in better cardiovascular shape, increase strength and power, yet still be agile, flexible and have well balanced movements. People trying to lose weight, tone up, better their athletic performance or just simply get fit... The results received from cross-training are amazing! I am not one to be boastful, mainly because I believe all trainers can bring something to the table and we can all definitely keep learning! It is better for me to say that I have different techniques than other trainers. As a Brazilian jiu-jitsu fighter I implement training techniques from my training into my clients training. The movements in jiu-jitsu were designed for petite women to defend themselves against large men. The training we go through is intense, tough and absolutely rewarding! This is what makes me different from other trainers!
Training Philosophy
My training philosophy is simple..."If you eat healthy, workout, and live your life right, you will reach not only your fitness goals but the goals you have set for your life as well!"
Education
Texas Southern University B.S. Administration of Criminal Justice Minor in Psychology May 2008
Bio
Current BJJ World Champion and Lone Star Champion 2013. I am a Brazilian Jiu-jitsu mycompetitor...I love BJJ it is my new passion! Ex-professional basketball player (Milan, Italy, Beiging, China). I have played basketball on all levels for 25 years. During my basketball career I have had some of the best trainers in the world trainer me. They inspired me to become a trainer! I have spent 7 great years as an AAU basketball coach of a non-profit girls basketball team. I was not only the head coach of my teams but also their strength and plyometrics trainer. Many of my players and their parents are also my private clients. I also have experiencing coaching volleyball, softball and cross country runners. I have trained athletes from the amateur level to professional sports.