THE PERSONAL TRAINER CONNECTION!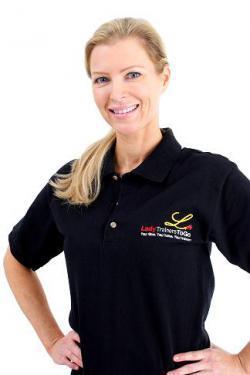 Premier In Home Training for Women, by Women
Sarah Parelli -
214-922-9992
Dallas, Texas 75248
Trains only women.
contact trainer
Specialties
Weight Loss
Yoga
Pilates
Body Sculpting
Certifications
Premier Female Nationally Certified Personal Trainers and/or Personal Trainers with a Degree in a Sports Science. All trainers also take regular and continuing education classes in the art of in-home personal training and the unique needs for training women.
Personal Trainer Overview
Your female personal trainer will design unique fun workouts tailored to your likes and dislikes to help you reach your fitness goals. Each trainer is taught to incorporate a variety of techniques in each of your workouts. Exactly which are used depends upon your goals. Some of the techniques include: •Yoga •Pilates •Resistance Training •Heart Rate/Cardio Training •Core Training •Stability Training •Flexibility Training •Functional Training
Training Philosophy
Our Ten Principles of Fitness for Results • Fitness Is Easier Than You Think – A step toward better fitness is always more visible than a step back. FITNESS IS EASIER THAN YOU THINK. Gain ten pounds and nobody notices… but lose five pounds and people will tell you how good you look! • Fitness Is For Everyone – The human body is constantly responsive to lifestyle changes, both good and bad. Fitness is possible for everyone who wants it, not just folks who are nearly there. No matter how long you've been out of shape, it isn't too late! It takes a long time to get out of shape, but you can get into shape in a fraction of the time if you have the proper guidance. • Customized For You – Because every person has different needs, each fitness program must be custom tailored to YOU in order to be effective. Generic formulas invite backsliding and abandonment, so they rarely work. The key is a caring trainer who understands physiology and is able to design a program to meet YOUR specific challenges… and help you follow it on a scheduled basis. • Convenience – The smartest fitness program for a busy person takes place in the home, where transportation time is absorbed by the trainer. This makes fitness possible for even the busiest professional. Familiar surroundings create the best environment for progress… and for privacy! It's easier to develop good habits when we don't have to travel to a large facility and practice them in front of strangers. • Fitness Is Fun, Really! – The right program is doable and sustainable. It does not overtax, especially in the early phase as old habits are being overcome. Fitness is FUN… but being unfit takes the fun out of everything else! • Visible Changes – Because visible results appear quickly, your fitness habit will be painlessly integrated into your lifestyle no matter how many other programs you've tried unsuccessfully. And regardless of your goal or where you currently are, you'll feel better almost immediately as we jump-start the new YOU! • Track Your Progress – Periodic evaluations by your trainer help you stay on track, with constant adjustments as you progress. This assures that no matter where you are on the curve, results are maximized! • More Than Just Fitness – Fitness is enhanced by good nutrition and impossible without it. If you take the time to learn a few shopping and kitchen tips, you can eat better than you ever dreamed possible! • Living It UP! – Fitness doesn't mean denying yourself luxuries! A fit person can enjoy chocolate cake without consequence; it's the unfit that pay a price for the enjoyment! • A New You! – The feeling of well-being and empowerment that comes from good fitness spills over into the rest of your life, enriching health, self-image, personal attitude and productivity at work. Our clients report more energy, sounder sleep and greater ability to cope with daily stress. Fitness means empowerment in every aspect of life… not just in the body!
Education
Premier Female Nationally Certified Personal Trainers and/or Personal Trainers with a Degree in a Sports Science. All trainers also take regular and continuing education classes in the art of in-home personal training and the unique needs for training women.
Bio
Lady Trainers To Go was launched as a division of Fitness Trainers To Go in late 2004 when CEO and founder Robert Korngiebel experienced a high demand from women for female personal trainers. Since then Lady Trainers To Go has become the leading personal training company for women in the Dallas Fort Worth area. Lady Trainers To Go caters to a clientele who prefers to workout in a more personal environment, as opposed to in a public setting, such as a gym. For this reason, Lady Trainers To Go trains in the privacy of a client's home or office. Each trainer provides all of the necessary equipment for a workout that is creative, original and most importantly, effective. The company also offers clients customized nutritional services provided by a certified nutritionist. The company recruits only the best, most qualified staff and as a result, clients are benefiting from the expertise of the most elite female personal trainers and nutritionists in the Dallas Fort Worth metroplex. Its success rate is impressively high and the feedback from clients has been overwhelmingly positive. Lady Trainers To Go proves the theory that women see better results and are more likely to stick with their fitness programs when trained by other women.