THE PERSONAL TRAINER CONNECTION!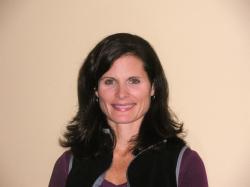 Specialties
Strength Building
Weight Loss
Rehabilitation
Body Sculpting
Training Locations
home
outdoors
my home gym
Certifications
licensed Physical Therapist for 19 years ACE certified Personal Trainer 1/09 CPR certified
Personal Trainer Overview
I have 19 years experience as a physical therapist which will allow me to see a variety of clients. I can incorporate my fitness routines to accommodate for orthopedic, neurological, medical and post partum diagnoses. I am able to work with a wide range in age from pediatric to geriatric clients.
Training Philosophy
I believe that a balance in life is important. Finding at least a half an hour a day to focus on yourself and your health should become a priority. Let me help you on your way to feeling more vibrant, strong and happy. I will perform a comprehensive assessment which will allow me to tailor your personal fitness routine. I will educate you in proper posture, form and body mechanics to prevent injury during the workout. Your exercise program will be based on functional movement patterns to allow you to gain strength and be able to use it in activities of daily living. I will incorporate balance, core stability, flexibility, strength and cardio exercises to help you reach your personal goals. I use body resistance, resistance bands, dumb bells, bosu ball, foam roller, exercise balls and a balance disc. My goal is to build your confidence in exercising to help you develop a healthy and active lifestyle.
Education
BS Physical Therapy 5/91 I have attended continuing education classes in Pilates, yoga, core stabilization, balance/vestibluar training and weight training.
Bio
I live in Ashburn, VA with my husband and 2 children. I was a gymnast in high school and taught gymnastics through PT school. I worked full time as a physical therapist until I had children, now I work part time in a few different settings. I have always exercised and been active. My interests include working out, mountain biking, road biking, rock climbing, hiking, tennis, keeping up with my children and dancing with my girlfriends.