THE PERSONAL TRAINER CONNECTION!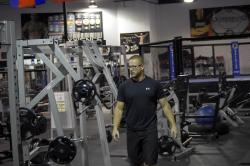 Reach your goals quickly
Samuel MOREL -
561-962-5108
Boca Raton, Florida 33486
Trains both men and women.
contact trainer
Specialties
Strength Building
Body Building
Weight Loss
Rehabilitation
Kick Boxing
Body Sculpting
Olympic Lifting, Functional Move
Training Locations
home
work
gym
studio
outdoor
Certifications
BEES 1° HACUMESE from France (specialised in Olympic Lifting and conditioning training) Master degree from Lyon University (France) rehabilitation and science of training IFBB International certificate (Weider Acdemy) Body Building training and Nutrition science PNCE 3M Trainers certificate for athletic training from Canada Cerified Personal Trainer Mixed Martial Arts Instructor
Personal Trainer Overview
We understand that every person is different by their experiences and physiologies. Upon becoming a client you will be in one-hour session with a highly experimented personal Trainer for reaching your goals. In addition you will receive a basic fitness program to help you achieve the results you are looking for. We also believe in continuing our service by staying in contact with every client. Every session are one hour. Our team of excellent personal trainers is there to assist you in reaching your fitness goals and to encourage levels of fitness you never thought possible. We believe that organized fitness should be used to not only achieve optimal health, but to prepare you for any activity you wish to include in your life. From recreational athletics with your friends to running the Boca Raton Marathon to prepare high competition, our personal trainers have the knowledge and resources to give you the ability to perform above your expectations.
Training Philosophy
I believe good health and well-being would not be possible to achieve without attention to proper nutrition, good sleep habits, stress management and healthy environment – both emotional and physical. The challenge is finding the right balance between all of the above components. I would like to be your guide on the path to finding it. My role in improving my clients' quality of life is that of an educator, motivator and designer of personalized fitness programs. I stress the long-term health benefits of improving one's strength, flexibility and cardiovascular fitness which invariably lead to better appearance, positive outlook on life and enhanced self-esteem.
Education
University for studying rehabilitation and conditioning training University of Lyon in France
Bio
Personal Trainer and Instructor since 17 years across the world. I moved to Florida by choice and training in Crossfit. I built one company with partners and friends for proposing different services like conditioning training, personal training and more. One part of our company is focused on Tactical Training for Law enforcement, Fire fighters and Military. My career started as semi profesional basket ball player in France then mved forward after injuries to the conditioning training and become instructor in France for different professional athlete. Then I found Crossfit and started the high intensity training in 2008 with friends to France. I specialized myself for weight loss, conditioning training fr athlete's and rehabilitation. Most of the results I got touch this three type of clients. My program work since 12 years, I am working on the high intensity adapted to the client capacities.