THE PERSONAL TRAINER CONNECTION!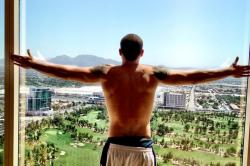 Personal and Athletic Training
Ryan Read -
(760) 802-6934
Scottsdale, Arizona 85251
Trains both men and women.
contact trainer
Specialties
Strength Building
Body Building
Weight Loss
Body Sculpting
Athletic Training
Certifications
ISSA Certified Personal Trainer
Certified Specialist in Performance Nutrition
Personal Trainer Overview
Thrive Specialized Training offers a unique blend of both personal and athletic training to maximize your results. Whether you are a world class body builder, professional athlete or someone who hasn't stepped foot in a gym for years, Thrive can and will help you reach your personal fitness goals. Thrive will customize a personal training regimen based on what your goals are, and will work relentlessly with you until those goals are achieved. Our program is designed to ensure workouts are continuously high paced and challenging with minimal stoppage. Keeping the heart rate up during every exercise is a vital part in staying healthy and seeing desired results. The reason athletes look so good and are so healthy is because of the type of training they participate in. Thrive incorporates athletic training into their workouts because that type of training produces the best results.
Training Philosophy
"To achieve something you've never achieved, you must do what you've never done."
Education
Bachelor's Degree from Concordia University of Irvine in Kinesiology
Bio
Ryan Read has been involved with athletics and training his entire life. He obtained his Bachelor's Degree from Concordia University of Irvine in Kinesiology and is a ISSA Certified Personal Trainer and a Certified Specialist in Performance Nutrition. He has learned from some of the greatest coaches and trainers in the country and knows what it takes to achieve the highest levels of success. Ryan has dedicated his life to preparing athletes to achieve their highest dreams. He personally knows the amount of work, commitment, and dedication it takes to get to professional level athletics. He takes pride in passing down his knowledge and experience to help others achieve their highest goals. Ryan began to taste success in basketball at Horizon High School in San Diego. There, he won two state championships under Coach Zack Jones as the starting point guard for the team. It was at Horizon where he first developed the commitment and discipline for the game of basketball. After high school, Ryan attended The Masters College in Santa Clarita. Ryan came into his own as a scorer and worked day and night to achieve a starting spot on the team as a Freshmen. During his first year, Ryan was presented the "Freshman of the Year" award. This achievement gave him the motivation he needed to keep reaching for his dream of playing professionally. The next year was a breakout year for Ryan. He led the conference in scoring at 18 ppg and was awarded All American Honors. The following year Ryan once again led the conference in scoring with 20 ppg and was top ten in the nation in 3-point field goal percentage. He led his team to a top 20 finish in the nation. Ryan then made the decision to transfer to Concordia University in Irvine which led to a stellar year in basketball. He averaged 17 ppg and was the leader in taking his team to a #2 rank in the nation. Ryan lead the nation in 3-point field goals made and percentage. Once again, he achieved All American Honors and All Conference Honors. Due to his hard work, dedication, and commitment to training, Ryan achieved his highest goal of playing professionally. After college, he played in countries all over Europe such as Cyprus, Spain and England. During these years he perfected his craft and pushed himself to his limits to get better each day. Ryan learned what it takes to not only become, but also succeed as a professional athlete.