THE PERSONAL TRAINER CONNECTION!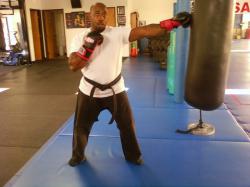 A way to be fit for life increase strenght,loss weight,and defen your self
Rollins Carrie -
214-650-5854
Garland, Texas 75041
Trains both men and women.
contact trainer
Specialties
Strength Building
Body Building
Weight Loss
Kick Boxing
self defence & flexibly
Training Locations
home
work
I have my own Gym
Certifications
Penn Foster Career School for fitness and nutrition
Personal Trainer Overview
Im a black belt in Tae Knuw Do i also teach Mixed Martial Arts. I use kick boxing in self defence in my training to give you a way to workout in be fit for life.
Training Philosophy
Change is good in life it is also good it the Gym. Being fit is a life style change with the right diet, and training you can reach your gold in no time. I'm a real up beat person I love to help other's get what they need and want. Fit for Life is what I want to give you.
Education
I've been in Martial Art for 6years in i have a Diploma from Penn Foster Career School for fitness and nutrition.I'm also a Martial Art Teacher.
Bio
I love to train,and teach Martial Arts it is a way for me to help people to stay fit at the same time teach them how to take care of their self in their family. I also like working with kids so they can learn respect,and discipline at a early age. Also walk around with their head up and be a leader. I here to HELP