THE PERSONAL TRAINER CONNECTION!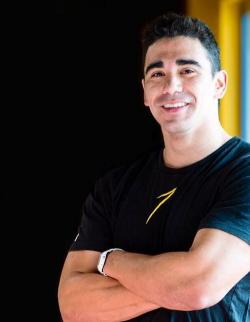 Coming from such a broad background, I focus on a results driven approach. There is a lot of ways to get to where you want to go, my goal is to show you the way I think its best for your goals.
Roger Montenegro -
(954) 681-6873
Saint Petersburg, Florida 33701
Trains both men and women.
contact trainer
Specialties
Strength Building
Body Building
Weight Loss
Rehabilitation
Aerobics
Body Sculpting
Athletics
Training Locations
home
work
gym
studio
outdoor
Certifications
C.S.C.S.-N.S.C.A. Lifeguard/CPR/AED/First Aid-Red Cross Swim Coach-Swim America
Personal Trainer Overview
I have 6 years of experience at the University, Professional, and private level as a Personal Trainer and Strength and Conditioning Coach. I have also worked abroad in Kuwait and New Zealand as a personal trainer/strength coach so I bring backgrounds from many different parts of the world. I have worked with highly successful athletes as well as the elderly population trying to maintain a healthy lifestyle. From kids aspiring to be pros to someone trying to lose weight and have a positive self image. I can work with you and get to your goals through different acquired training methods I have learned over the different places I have been. My ultimate goal is to make you, your own hero. I have been involved in aquatics all my life. I enjoy swimming, playing water polo and offcouse, lifting weights. I prefer to train outdoors and like to go for long vertical hikes when not in Florida. I also love traveling, fun fact, I have traveled to 33 countries
Training Philosophy
When I get a new client, we talk about goals, expectations, nutrition, and previous health history. I put them through a series of tests to measure flexibility and functionality to see if you are at a level to get into normal everyday positions though your movement patterns. Once we establish basic movement we start moving onto strength and endurance to see what you are capable of doing and establish a baseline. We have to establish were we are to know were we are going! My training sessions always start with warm up and end with cool down in a dynamic manner. In between we do what is needed for your goal, that being cardio, weightlifting, injury rehabilitation, or a combination of everything through a results driven approach that gets the most out of your time. I will devote my entire knowledge and attention to you while you are with me. I want to empower you to succeed at becoming your own hero and achieving your goals.
Education
Bachelor of Science-Applied Physiology and Kinesiology-Specialization in Fitness and Wellness-University of Florida Florida Atlantic University- Strength and Conditioning Intern Boomaritos Performance Systems- Performance Coach Intern Spark Athletic Kuwait- Strength Coach Crunch Fitness- Personal Trainer Sunrise Swimming- Age Group Coach Kings College, New Zealand- Strength and Conditioning Coach/Head Swimming Coach
Bio
I was born in Colombia, came to the United States at 10 years old. I got into swimming when I was 13 and got hooked. Ever since then my life has revolved around fitness and wellness. I graduated from University with an Exercise science degree and played water polo all four years. I did some internships in Florida Altantic University and Boomaritos Performance Systems to introduce me to the field. I went to work in Kuwait as a Strength and Conditioning coach and it taught me a lot about different cultures and travelling. I came back worked for Crunch Fitness as a PT, then I left to go travel the world for a year on a Sabattical. Little did I know, that it would bring me back to my roots and found a job in New Zealand coaching Swimming and Strength and Conditioning for the school. Now I am back in Florida, having experienced a lot and with a true desire to get everyone fit enough to experience a full life with hiking and travelling for themselves!