THE PERSONAL TRAINER CONNECTION!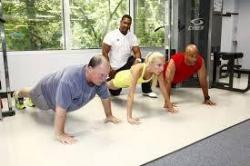 RickyJackson.com-Personal Trainer
Ricky Jackson -
(713) 927-4645
Houston, Texas 77004
Trains both men and women.
contact trainer
Specialties
Strength Building
Body Building
Weight Loss
Rehabilitation
Yoga
Pilates
Aerobics
Spin
Body Sculpting
Boxercise
Personal Trainer Overview
Lose weight and improve strength with fitness plans from private personal trainer Ricky Jackson. He provides personal training and conditioning programs for individuals, athletes and sporting teams. Personal Trainer and former Boxing Champion Ricky Jackson has been involved with fitness for the last 30 years. He began his experience as a professional athlete and progressed to a professional head strength and conditioning coach for 18 different sports at the collegiate level. He has developed his personalized training regiments from his extensive education in human performance studies at Texas Southern University and through collaboration with various professional athletic trainers and coaches throughout his professional career.
Training Philosophy
Ricky offers tailored training programs, which are specifically developed and continually adapted for the individualized needs of each client.
Education
Human Performance
Bio
In his 30-year career, Houston 2014/2015 Personal Trainer of the Year Ricky Jackson, owner of JACK'S FITNESS & WELLNESS CLUB/BOXING, has worked for the exclusive resort the Houstonian Hotel, headed up the strength-and-conditioning program at Texas Southern University, and even traded blows as a professional prizefighter under the management of Don King. Today, he brings his lifetime of fitness knowledge to his clients during one-on-one training sessions with his business, Ricky Jackson Personal Training Service. He draws from his boxing and athletic training to help his students cut weight, develop their athletic skills, or even recover from injuries