THE PERSONAL TRAINER CONNECTION!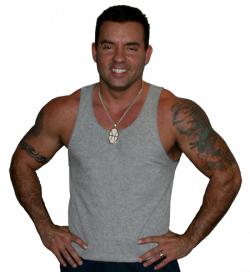 Specialize in Weight Loss, Building and Toning Muscle, Nutritional Advice that will improve your overall Quality of Life
Rick DeBartolo -
708-244-9977
Brookfield, Illinois 60513
Trains both men and women.
contact trainer
Specialties
Strength Building
Body Building
Weight Loss
Body Sculpting
Cardio Training
Training Locations
home
gym
work
outdoors
Lisle, OakBrook,Naperville, Broo
Certifications
NPTI (National Personal Training Institute) American Heart Association IDEA Health & Fitness Association Stretching Institute: ( Every workout starts with a warm up and finishes with proper stretching methods that help you: Improve flexibility; Ease pain by relieving stiff aching muscles; Prevent injury; and promotes better posture.)
Personal Trainer Overview
I use proven exercise techniques and help balance proper nutritional intake. With affordable packages and flexible payment options there is no reason to not get started now! I really put a lot of effort into designing a proper exercise regimen for you. There is a science to it and I constantly fill my drive for knowledge in fitness and nutrition. Doing this keeps my mind sharp and open for new and fun ways to get you in shape.
Training Philosophy
I am not a drill Sargent and do not shout in your face, however, I will put you through a vigorous exercise routine. You must push your body to levels that you have never reached before. Working together we will get you where you want and need to be. Free weights, body weight, stability balls resistant bands etc... We will use them all. Muscle confusion is the key to success. Let me prescribe the workout so you can do it and be the best you that you can possibly be. I really enjoy working with anyone who needs my help. I to was once 260 pounds with a 40" waist. I now am 190 with a 32" waist. If I did it so can you. Let me teach you how!
Education
NPTI (National Personal Training Institute) Diploma / Practice and Theory of Personal Training CPR / AED Certified Certification in basic nutrition Sports Specific, Strength training, Weight loss Fitness Assessment includes an in depth calculation using your Body Weight, Height, Age and your Sex to determine your personal Muscle Mass, Body Fat, percentage of your Body Water, Bone Mass (determines the weight of your bones in your body), Visceral Fat Rating (this shows the amount of fat surrounding your vital organs in your stomach area), BMR (the number of calories your body needs at rest) and your Metabolic Age. Nutritional Consulting Work experience includes; Police Officers, other Personal Trainers, Teenagers to Seniors age ranges from 14 to 72. I have trained athletes in areas such as Boxing, Hockey, Arena Football and Body Building.
Bio
I have been on both sides of the scale. Under weight and obese. I finally found the drive to make my body the best it has ever been. Having a diploma in practice and theory in personal training, I can help you achieve your fitness goals. I understand how the body responds to training but that is only part of the process. I know how our bodies need proper nutrition not only for energy to get us through the day, but to speed up our metabolic rate, repair and rebuild tissue such as muscle and provide important roles in heart health and brain function. Don't think that those late night infomercials will set you free. You need a more personal approach that I will provide. Remember, train hard, eat well, rest and recover.