THE PERSONAL TRAINER CONNECTION!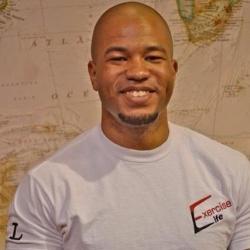 CEO & Founder
Rick Applewhite -
(630) 888-0730
Addison, Illinois 60101
Trains both men and women.
contact trainer
Specialties
Strength Building
Weight Loss
Rehabilitation
Aerobics
Weight Loss. Balance Training.
Certifications
CPT-NASM America Heart Association (CPR/AED)
Personal Trainer Overview
We are incorporating stress release exercise methods by developing bodies and having them operate at their highest levels of life. This takes place by providing on-demand training with one of our fitness professionals. We schedule a time to bring the work out to you! It does not matter if you are at home, at the firm, or in the office you'll have a chance to exercise regularly. "We will get you results"
Training Philosophy
Exercise Life is dedicated to seeing organizational leaders succeed, by making exercise convenient to their demanding schedules, incorporating stress elimination exercises, placing an emphasis on family development by exploring their purpose, and integrating additional principles that will enhance career success and increased productivity through exercise.
Education
Certified Personal Trainer-National Academy of Sports Medicine. Weight Loss specialty. Abdominal Enhancement. Rehabilitation Exercises. Productivity Coaching. MMA Training.
Bio
Rick D. Applewhite is a certified personal trainer with the National Academy of Sports Medicine. His passion for fitness began when he was a child and continued while studying and participating in collegiate football and track where he was voted captain of the football team and received numerous awards for his athletic abilities, including the Academic All-American, Athletic All-American and two national track and field championships. After college, Rick began participating in numerous free agent camps where he obtained a desire to use exercise in training for purpose. While training for the NFL, Rick began to think in terms of compounding success for others. During his successful career in the corporate world as a direct sales representative and an educational advisor, Rick realized it was time to fulfill his dream to train leaders in pursuing their purpose through exercise. He is the founder and president of Exercise Life, an organization that focuses on fitness training and leadership development as it empowers people to become fit for life. With more than 100 hours of individual training, Rick has coached a vast amount of clients from the areas of education, business, fashion, entertainment and banking. Rick strongly believes that your power is in your purpose and continually searches for new ways to help others develop their purpose and become more effective in their areas of influence. He wants to help leaders transform from the boardroom to the bench press and from the corporate world to cardio. He has been interviewed multiple times by one of the largest online women magazines for his fitness expertise and is a weekly fitness consultant on a Chicago radio talk show. As founder of Exercise Life, Rick's modus operandi is "You must Exercise Life, do not Allow Life to Exercise You".