THE PERSONAL TRAINER CONNECTION!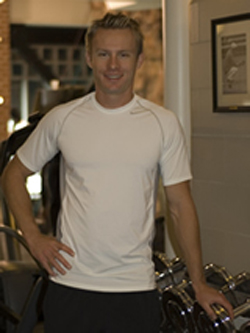 Specialties
Strength Building
Weight Loss
Certifications
National Academy of Sports Medicine (NASM) National Counsel on Strength and Fitness (NCSF) Certified Group Exercise Instructor American Fitness and Aerobic Association Muscle Activation Technique (MAT)
Personal Trainer Overview
Getting into shape can be difficult and daunting. Most of us need a PLAN. Healthy Progress offers that plan, an integrative personal fitness training strategy. This includes an individualized exercise program that is based on your needs and capabilities, nutritional counseling, guidance on cardiovascular exercise, as well as suggestions for healthier living. Ultimately, Healthy Progress Training aims to facilitate optimal health. Once healthy, your body is likely to reach its ideal weight/composition and you will feel greater energy and vitality.
Training Philosophy
It is clear to me that a training program designed to facilitate optimal functioning and health can yield the best results. The human body knows how to be fit, but it first needs to be healthy. Factors such as nutrition, stress (physical and mental), physical activity, and rest must all be balanced. Healthy Progress Training is a method of ushering one to his/her peak health through MAT, balanced exercise, and nutritional guidelines. Once health is achieved, fitness is simply inevitable.
Education
M.S. in Experimental psychology with an emphasis on psychopharmacology
Bio
After completing my master's degree in experimental psychology I wanted to take a year off from academia. I have always been athletic and passionate about sports and fitness. Therefore, I thought personal training would be a fun job to do while looking for a research job. However, ever since I took my first job at Xsport Fitness, I never looked back at experimental research. Working directly with people proved to be far more rewarding than crunching statistical data and observing rats in automated mazes. Making an impact on people's lives was addictive. Working with people of various skill levels and goals proved to be a very rewarding challenge. Consequently, I began a sincere and passionate study of fitness. This is where my research skills acquired in school came in handy. As part of my lifelong education in fitness, I have read countless books/articles, taken numerous educational seminars, and completed several certification programs, including the prestigious and rigorous Muscle Activation Technique™ (MAT), which teaches a therapeutic approach to restoring joint integrity.