THE PERSONAL TRAINER CONNECTION!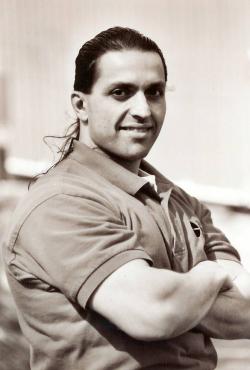 Fitness RxPerts, LLC
Paul Methratta -
877-797-3787
Conshohocken, Pennsylvania 19428
Trains both men and women.
contact trainer
Specialties
Strength Building
Body Building
Weight Loss
Rehabilitation
Aerobics
Post Rehab, Sports Training
Certifications
NASM
ACE
ASPT Personal Trainer Lifestyle Mgmt Assoc - Nutrition Specialist
Personal Trainer Overview
We offer customized fitness training programs based on the most current exercise science to work with the most advanced athletes as well as clients with medical limitations. We initially perform a thorough assessment, determining both medical and exercise history, current fitness, goals, posture and movement quality, and aerobic capacity and resting metabolism when warranted. Our facility is complete with facilities for all facets of fitness training and the industry's best equipment, carefully selected for movement quality.
Training Philosophy
Fitness training is about exposing your body to new challenges that your body must be able to struggle with just enough to adapt accordingly. Exercise should not just be calorie expenditure. Also, it should be built into balanced living. Exercise training is stressful on the body. Working out in combination with food and/or rest deprivation is more stressful. Success is acheived when exercise yields the right stimulus, and food and rest reward the body for it's efforts. It is much harder to eat too many calories when food is not processed and contains lots of whole grains, fiber, fresh vegetables and fruits, and lean protein sources.
Education
B.S. in Health and Exercise Science with Concentration in Pre-Physical Therapy/Sports Medicine from Eastern University Certified Personal Trainer - National Academy of Sports Medicine Certified Personal Trainer - American Council on Exercise Certified Nutrition Specialist - Lifestyle Mgmt. Associates B.S. Business Management with Minor in Business Logistics from Penn State University Opened Fitness RxPerts, LLC in 2005.
Bio
Worked as warehouse and distribution manager for 7 years in retail after Penn State. Simultaneously worked voluntarily in evenings giving new members complimentary intro sessions at a neighborhood fitness center. Enrolled in school and became certified in 1999. Became Fitness Director and trainer at Gold's Gym in 1999. Moved to the Aquatic and Fitness Center in Bala Cynwyd, PA in 2003 and continued training. Opened Fitness RxPerts, LLC with wife Donna in 2005. Opened expanded Fitness RxPerts, LLC facility in Conshohocken, PA in 2009.