THE PERSONAL TRAINER CONNECTION!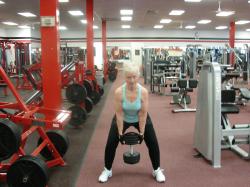 Look good, feel good, and have long lasting quality of life
Pam Penttinen -
6309352071
Wheaton, Illinois 60189
Trains both men and women.
contact trainer
Specialties
Strength Building
Weight Loss
Training Locations
home
studio
work
United States
Certifications
GRADUATE NATIONAL PERSONAL TRAINING INSTITUTE
Personal Trainer Overview
Training programs depend on the needs and goals of the client. After a thorough discussion of lifestyle, nutrition, and a fitness assessment, a program based on client needs and goals, and his/her current fitness level as well as age, can be determined. Bootcamps are also available and are an excellent workout of short duration at an economical cost.
Training Philosophy
My name is Pam Penttinen. I am passionate about helping others make healthy lifestyle changes. I know how this can improve a person's quality of life and self-esteem. It can be done at any age, if one is willing to do the work and make healthy lifestyle changes. I believe resistance training along with circuit training, cardio and nutrition education and diet can produce desired results. Because I have lost 105 pounds in 2 years, I use my own life as an inspiration and as an example of what healthy lifestyle changes can do. I don't use any drugs or quick weight loss gimmicks. I believe in healthy lifestyle changes for a lifetime along with a fitness program that fits the clients goals and needs. These changes will maintain a healthy weight, increase energy, and improve the quality of life. Seeing a person's face light up as they begin to see inches & fat disappear, energy levels rise so they feel better and can accomplish more in a day is my motivation. I know many health issues can be helped or diminished through proper diet and exercise. Give me a call or send an email so we can discuss your needs and goals.
Education
NUTRITION, FITNESS (WEIGHT, CIRCUIT, CARDIO) TRAINING
Bio
I was 260 pounds 2 years ago. I worked with a Personal Trainer, who taught me good nutrition, not just a diet, but a lifestyle change that would be for a lifetime. I am now at 155 pounds, went from a 22-24 to a size 10. I have added about 35 pounds of muscle and feel great. I have been able to inspire and pass on what I have learned and experienced to others at the gym. I am now passionate about helping others achieve permanent healthy lifestyles that will improve their overall health and quality of life, not to mention self-esteem.