THE PERSONAL TRAINER CONNECTION!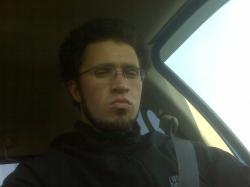 looking to shed weight fast? 15 days 15 pounds? It can be DONE!!!
Nolan Cruz -
630-479-1589
Wheaton, Illinois 60187
Trains both men and women.
contact trainer
Specialties
Strength Building
Body Building
Weight Loss
Kick Boxing
plyometrics, speed and agility.
Training Locations
home
gym
studio
work
outdoors
Certifications
NPTI I will have my NASM as well as my TRX certification done very soon.
Personal Trainer Overview
looking to shed weight fast? just 30 minutes that's all you need with me. 15 days 15 pounds it can be done, circuit training is the best way that you body will react to losing weight, toning up, increase lean muscle mass and improve your endurance.
Training Philosophy
My philosophy is simple, its you and I that will make us reach to your goal. It's not just you doing your homework on the days that we don't train, it is going to take us to get you there and that's what I am here for. I have a had a best friend at the age of 20 come to me and ask if for help, he weighed with me at the start of a total of 360 pounds now he is weighing in at 240 pounds, I love the fact of helping people and seeing them happy that is what makes this job fun. I love to have fun but yet the work needs to get put in to have the outcome that you want, circuit training is going to be the best way to decrease your body fat as well as the fatstest way to increase you endurance which what you need to decrease your body fat. The higher your VO2 is which is how much oxygen your body can take in the higher the percent you have of losing weight and toning up. My streghth is circuit training as well as diet, cardio kick boxing, speed work and body building.
Education
I went to Wheaton North High School I graduated in 2007. I went to the National Personal Training Institute in Lisle. I graduate there in 2008. I am studying right now to get my NASM done as well as my TRX.
Bio
One time in my life I use to be 230 pounds and when I wanted to pursue health and fitness I realize that I had to change my life around before I wanted to chang others. I put myself on a diet and workout hard for 2 straight months, I got my weight down to 200 in 2 months and now I am steady holding it at 190. I love the fact that I get to go to work and help people get better each and every day, My brother came to me and ask me if he could lose 15 pounds in 15 days? I told him yes with the proper diet and the proper workouts. He worked hard and got his results and lost 15 pounds in 15 days, it can be done just how bad do you want it? we are going to work together to get you to your goals as a team!!!!!!!