THE PERSONAL TRAINER CONNECTION!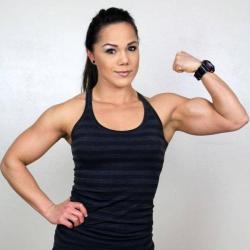 Personal Trainer
Nicole Gonzalez -
(512)815-3350
Austin, Texas 78705
Trains both men and women.
contact trainer
Specialties
Strength Building
Weight Loss
Body Sculpting
Powerlifting
Certifications
ISSA-Strength and Conditioning Specialist International Elite Level Powerlifter
Personal Trainer Overview
Nikki Gunz Fitness Training provides customized 1-on-1 training sessions with national and international recording holding athlete Nicole Gonzalez. Thirty minute or 60 minute workouts include individualized training based on your personal training objectives and maximize your entire body's capabilities. Lose Weight, Get Stronger, Feel Awesome. As a Licensed Specialist in Strength and Conditioning, Nikki combines the foundations of resistance training with those of metabolic training to deliver training sessions that are intense yet scaled to your abilities. Nicole trains clients coming from all fitness backgrounds and physical conditions, customizing her fitness programs for each person's goals. Are private sessions right for you? Working 1-on-1 brings about a setting of accountability between you and your personal fitness trainer. In contrast to other standard programs, Nikki actually approaches each client as an individual. Your training with her will be based upon your physical fitness assessment, individual requirements and goals. She takes the time to listen to you and understand what you are wanting to accomplish as well as how you are feeling with the present program. Nikki will drive you beyond your comfort level but by no means expect you to do more than you are capable of. Whether your aim is to live a healthier diet and lifestyle or accomplish a a larger fitness goal, Nicole possesses the skills, knowledge, and determination to get you there. This is what distinguishes her from other personal trainers: the wholehearted commitment to bettering her clients' lives everyday.
Training Philosophy
Lose Weight, Get Stronger, Feel Awesome.
Education
ISSA-Strength and Conditioning Specialist International Elite Level Powerlifter
Bio
I'm an Elite Powerlifting Competitor for USPA and USAPL. Love fitness, cooking, training and helping others achieve their fitness goals. I'm always training to become a better me!! Currently Hold the Raw World Record in Squat and Total in USPA Rank 1st in the 132 Raw Open throughout all federations Rank 2nd in the World for Raw Squat Without Wraps @ 132 Have won 1st and Best Lifter at every local meet I've competed in 2013 Placed 2nd @ IPL Worlds 2014 Placed 1st @ IPL Worlds 2015 Placed 1st & Best Lifter @ USPA Nationals