THE PERSONAL TRAINER CONNECTION!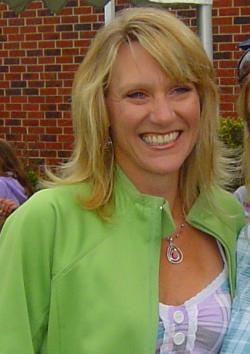 Specialties
Strength Building
Body Building
Weight Loss
Rehabilitation
Body Sculpting
Running
Certifications
ACE Certified Personal Trainer RRCA Certified Running Coach
Personal Trainer Overview
Training Philosophy
I don't believe that personal training should be priced so high that only the wealthy can afford it. Learning to exercise properly should never be a "luxury". Through flexible payment schedules, no packages to buy, and very affordable rates, I can share my love of fitness and help EVERYONE achieve their goals!
Education
Bio
Nicki Davis began her passion for exercise in 1992 while maintaining a career as a Certified and Registered Echo cardiogram Technologist. Her involvement in the medical field seeded her importance of maintaining a healthy and active lifestyle. She started running on her lunch breaks and lifting weights after work in order to stay fit and feel healthy. After the birth of her first son "Tyler" in 1995 and her second son "Gavin" in 1999 she used exercise as a way to get her body back in shape. In 2001, she ran her first 5k race, on a whim, just to say "she did it". After that race, Nicki's passion for running, and the competition of "beating your last time" began. She registered for another race later that same year. In 2002 she vigorously trained through extreme temperatures and conditions, and ran the Chicago Marathon later that year. At the end of 2002, Nicki left the medical field with a focus on helping people maintain their health by sharing her love of fitness and exercise. For the next few years, she continued to enter many local races. Nicki continued to improve her race times through study of different training techniques, proper nutrition, and the strong desire to be the best she could be. In 2004 her daughter "Chelsea" was born. A few weeks after the birth, Nicki ran a 10k race and quickly got back into her routine and her commitment of looking and feeling healthy. She began to run competitively and won numerous first, second, and overall Female divisions. Nicki has run 3 marathons, 13 half marathons, and too many 10, 8, and 5k's to mention! With many awards and accolades to go along with her personal achievements, Nicki found her calling and became a certified Personal Trainer in 2009. Soon to follow was a certification as an RRCA Personal Running Coach. Nicki Davis started S. E. Training inc. in February of 2010 with the philosophy that "Everyone Deserves to be Healthy". She finds personal satisfaction in helping others recognize and achieve their individual fitness goals. Nicki is extremely family oriented and truly cares about the people she trains and the positive difference she can make in their lives.