THE PERSONAL TRAINER CONNECTION!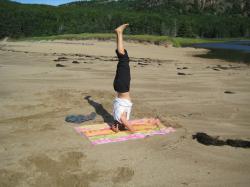 Brooklyn in-home Personal Training
Morgan Sevigny -
3399272196
Brooklyn, New York 11217
Trains both men and women.
contact trainer
Specialties
Strength Building
Weight Loss
Sports Specific, Youth, Prenatal
Certifications
I am a NASM certified personal trainer.
Personal Trainer Overview
Get in shape in the comfort of your own home or in beautiful Prospect Park. You will gain endurance, strength, flexibility, balance and agility.
Training Philosophy
Taking care of your body can make a huge difference in your outlook on life - participating in fitness activities increases physical poise and endurance and decreases stress. As a trainer, I use my enthusiasm for exercise and knowledge of the human body to help you reach your fitness goals - you will see not only aesthetic changes, but also functional changes.
Education
I graduated with a BA in American Studies and Business from Brandeis University.
Bio
I grew up in Mount Desert, Maine where I often hiked, swam, biked and ran in Acadia National Park. In 2002 I attended Brandeis University where I played Women's Varsity Basketball for two years before joint the Brandeis Ultimate Frisbee Team. In 2006 I graduated from Brandeis and moved to Brooklyn, New York. I coach youth sports and work as a personal trainer. To stay in shape I enjoy running in Prospect Park, lifting weights, playing basketball and living a generally active life.