THE PERSONAL TRAINER CONNECTION!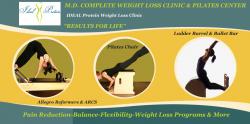 Specialties
Strength Building
Body Building
Weight Loss
Yoga
Pilates
Aerobics
Taichi
Kick Boxing
Body Sculpting
Flexibility Specialist, Back & J
Certifications
Michelle Dumovich NC-NASM-OPT-SMC-ACE Neuromuscular Physiology
Weight Loss Expert
Human Movement Specialist
Pilates Master Trainer & Flexibility Specialist. Nutritional Consultant and Pain Reduction Specialist.
Personal Trainer Overview
Dedicated and Motivated highly certified trainer who provides Pilates Reformer, Chair, Ladder Barrel, ARC and More for pristine training. Plus, an IDEAL Weight Loss Clinic on site to make sure your losing weight and getting the results you want!
Training Philosophy
"Results For Life" is my mission. You will find extreme passion, motivation and building your self esteem within my sessions. I make sure your needs come first. Pilates, Weight Training, Nutrition, Cardio and Yoga relaxation stretches are used. I have been dedicated to personal training for over 15 years and have never given up on a client. Never.
Education
NASM-OPT,SMC in Neuromuscular Physiology, Personal Training, Applied Kinesiology, Flexibility Enhancement Specialist- NC (Nutritional Consultant) that is affiliated with the A.A.N.C Pilates Master Trainer and Yoga Certified. ACE Group Fitness Certified and Personal Trainer. Owner of MD Complete Weight Loss & Pilates Clinic
Bio
Michelle Dumovich has been an active teacher and Personal Trainer in the Tampa area for over 10+ years. She has much passion and knowledge that are explosive.