THE PERSONAL TRAINER CONNECTION!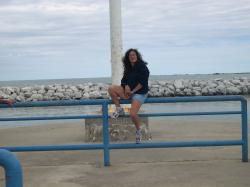 Specialties
Strength Building
Weight Loss
Body Sculpting
Life skills, cardio programing,
Personal Trainer Overview
I am a functional trainer. I work in a field that is truly my life's passion. My emphasis is on one day at a time...one moment at a time...one change at a time every week..... permanent change. For real change we have to ask ourselves the difficult questions...we have to look at where we are and come to terms with what is NOT working. Once we do that, it is then that we begin to plot a new and healthier path...it's a journey not a destination.
Training Philosophy
I work from the inside out. I truly believe that in order to fix your outside one must examine ones life and create new healthy habits going forward. Getting older does not necessarily mean that we are all pre-destined for declining health.
Education
I have been a professional trainer for going on 8 years now. I have held certs from AAFA, and NASM. I cut my teeth working for Lifetime Fitness for 4 years before going out on my own...
Bio
Go to my website. Read my story...see what my clients have to say.... Then send a note so we can begin the process of discovering what your needs are. It's not too late to get moving and on your way to permanent change! Be well! Michel CPT-ACE Phone: 262.884.6974 Cell Phone: 708.403.4831 Email:runonheart2004@yahoo.com website: http://www.runonheartpersonaltraining.com